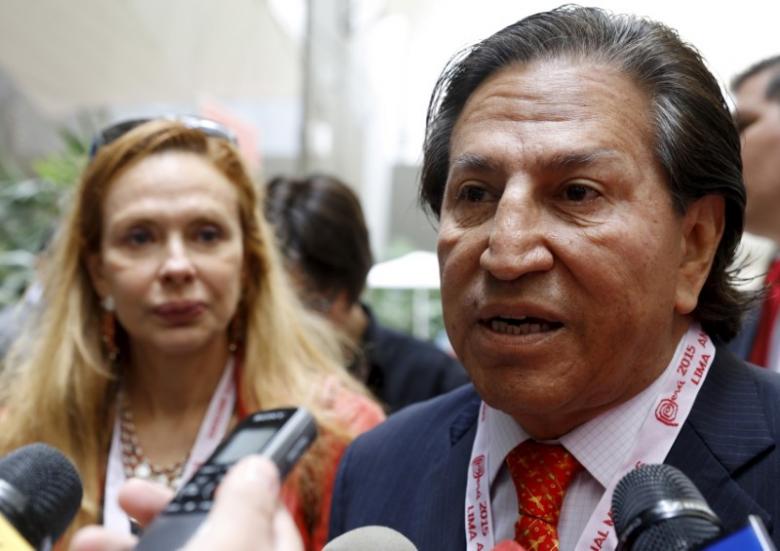 ---
LIMA, PERU: A Peruvian judge on Thursday issued a domestic and international warrant for the arrest of ex-president Alejandro Toledo over accusations he took a $20-million bribe from scandal-plagued Brazilian construction firm Odebrecht.

Judge Richard Concepcion granted the request to jail Toledo for 18 months of "preventative custody," calling for his "immediate location, capture and confinement."

Prosecutors will meanwhile prepare their case against the ex-president on charges of money laundering and influence peddling, the attorney general's office had said.

After poncho mockery, world leaders tone it down in Peru with shawls

His lawyer, Heriberto Benitez, said he would appeal the decision. He had requested the judge grant only a summons, saying that detaining Toledo without a substantive sentence would be an infringement on his rights.

The term of confinement would begin from the moment Toledo is detained. Until a few days ago he was in Paris and remains abroad, but his exact whereabouts are unknown.

Toledo, Peru's president from 2001 to 2006, came to office on a promise to clean up politics after a dirty decade under ex-president Alberto Fujimori, who is in prison for corruption and human rights violations.

Table toppers Brazil wary of Peru's attacking duo

The mounting case against him has shocked the country since reports emerged earlier this month that he took a massive bribe to ensure Odebrecht won the juicy contract for a highway linking Brazil and Peru.

Investigators raided Toledo's house in Lima on Saturday, carting off documents.

The accusations emerged from the giant scandal in Brazil involving the state oil company there, Petrobras, which was bilked for billions of dollars over the course of a decade by corrupt executives, politicians and contractors - including Odebrecht.

Among the tell-all plea bargains to come out of the Brazilian investigation was one from Odebrecht's former boss in Peru, Jorge Barata, who admitted the company gave Toledo's government a $20-million bribe for the highway project.

US, Peru seize $30 million in fake dollars, biggest bust ever

Barata said the intermediary for the bribe was Toledo's security chief, Israeli national Avraham Dan On, according to investigation documents leaked to the Peruvian press.

The money was allegedly deposited in accounts belonging to a Peruvian-Israeli businessman, Josef Maiman, a friend of Toledo.

Investigators have traced $11 million in bribes to Maiman's accounts, deposited between 2005 and 2008. They allege the money was then stashed in offshore businesses created by Maiman and Toledo's mother-in-law.

Toledo denies the accusations.