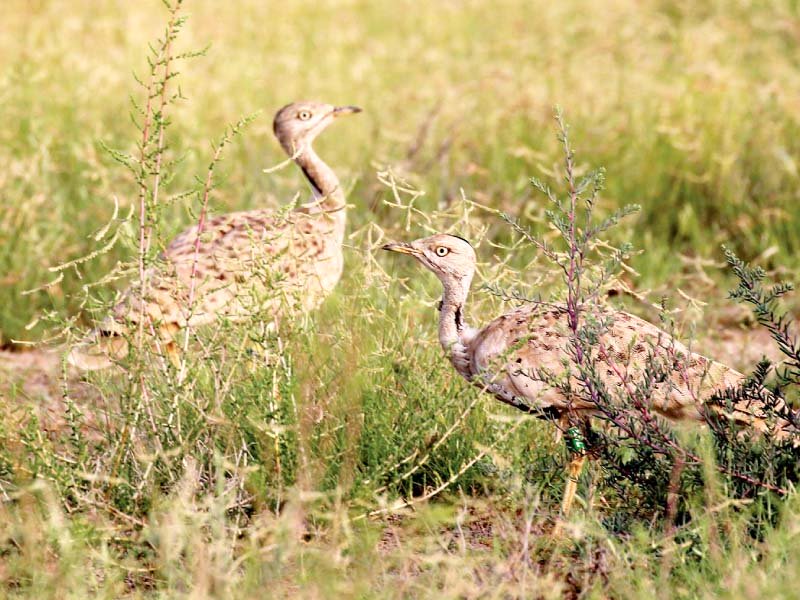 ---
LAHORE: To boost the dwindling population of wild houbara bustard in Pakistan, more than 1,000 birds bred in captivity in Abu Dhabi, UAE will be released soon in the country. The 1,050 bustards to be released are from the Pakistan-resident species bloodline and will be donated by the International Fund for Houbara Conservation.

The houbara bustard migrates from the Central Asia to Pakistan every year in the winters and returns to its breeding grounds after the wintering season. Despite a ban on its hunting, the government issues between 25 and 35 special hunting permits annually to wealthy Arab dignitaries, who like to hunt the bird both as a sport and because its meat is considered an aphrodisiac.

Arab Houbara bustard hunters' convoy attacked in Panjgur

A statement issued on Thursday by the Houbara Foundation International Pakistan said the latest move would add to several previous bird releases in previous years. The most recent release of 600 birds and 200 birds took place in Pakistan in March 2015 and February 2016, respectively.

Since the bustards are originally from Pakistan's resident houbara population, the organisation hopes most of them will settle easily for breeding.

All local cooperation is being provided by the Houbara Foundation and Punjab Wildlife Department for receiving the birds and for their scientific release. CITES export and import permits along with necessary the no-objection certificates are being exchanged between the two establishments in Abu Dhabi and Pakistan.

"Having been under highly specialised care, the birds being brought to Pakistan have been well-prepared to manage themselves in the wild. All the birds have been individually tagged with identification rings while selected birds are also tagged with satellite transmitters for scientists to carry out monitoring of the birds after release and record their movements, habitat preferences and the ability to breed," the statement read.

It added that after their release, data will be generated bi-weekly in order to detect movements, habitat preferences and breeding behaviours. The birds' locations will be communicated to the Houbara Foundation for field validation and further investigations.

The statement said the breeding programme in Abu Dhabi had bred over 206,000 houbara bustards, of which around 137,831 birds have been released into the wild. The International Fund for Houbara Conservation is now producing over 50,000 houbara every year.

Saving the Houbara bustard

According to its website, the Abu Dhabi-based International Fund's research centres are involved with the preservation of all houbara populations ranging from Mongolia to Morocco, encompassing North African, Middle Eastern and Central Asian countries.

Established in 1995, the Houbara Foundation International Pakistan works in collaboration with reputed conservation organisations and law-enforcement authorities to curb the trend of hunting, illegal trapping and loss of habitat that all contribute to the decline in wild houbara populations in the country.

Published in The Express Tribune, February 10th, 2017.
COMMENTS (3)
Comments are moderated and generally will be posted if they are on-topic and not abusive.
For more information, please see our Comments FAQ