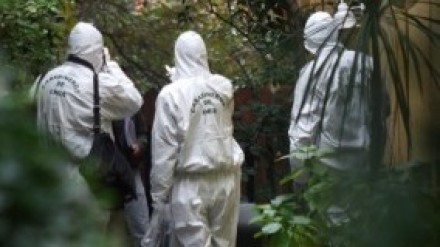 ---
SANTIAGO:


Police in Chile on Thursday raided the home of an acquaintance of Muhammad Saif-ur-Rehman Khan, a Pakistani man who was arrested after being found with traces of explosives at the US embassy in Chile.

The raid carried out by members of Chile's special forces, had been ordered by Francisco Jacir, the government prosecutor leading the probe into whether Pakistani Khan has ties with terrorists.

Authorities emerged after more than three hours from the house that the acquaintance, a years-long resident of Chile, shared with a Chilean woman and removed a suitcase, a laptop computer, various compact disks and a cell phone.

The raid followed a declaration by Pakistan's ambassador to Chile late Wednesday questioning the evidence against Khan and offering him legal assistance.

"He would have to be a very bad terrorist to enter the embassy with traces of explosive material, knowing that the embassy is a dangerous place where he would face serious accusations if he were caught," said Ambassador Burhan-ul-Islam.

Khan, 28, whose detention at a high-security prison has been extended under Chile's anti-terror laws, has denied any terror ties.

But Attorney General Sabas Chahuan said he believes there is enough evidence to charge the detainee.

"I think a crime has been committed," Chahuan said. "This individual has no criminal record in Chile, and enjoys the presumption of innocence, but prosecutors believe he holds a degree of responsibility."

Experts found traces of TNT explosive derivatives on the man's hands, his cell phone, bag and documentation after he went through a security checkpoint, prompting embassy staff to notify police.

Khan has insisted he did not know where the traces came from, and said he was at the embassy only to renew his visa.

The US State Department in Washington said the embassy had called Khan in after revoking his US visa, but did not explain why the visa had been pulled.

Chilean officials said they are allowed to hold Khan without charge through Saturday, but the public defender's office said it would try to have him freed, arguing that the terror laws were being used unfairly.

"The record so far ... does not indicate the existence of a crime," said public defender Francisco Geisse.

Opposition Senator Alejandro Navarro called the situation "regrettable."

"The United States had hundreds of detainees without foundation and Chile does not want the same," said Navarro.

Judge Ely Rothfield, who ordered the Pakistani man jailed under the anti-terror laws, rejected the public defender's bid.