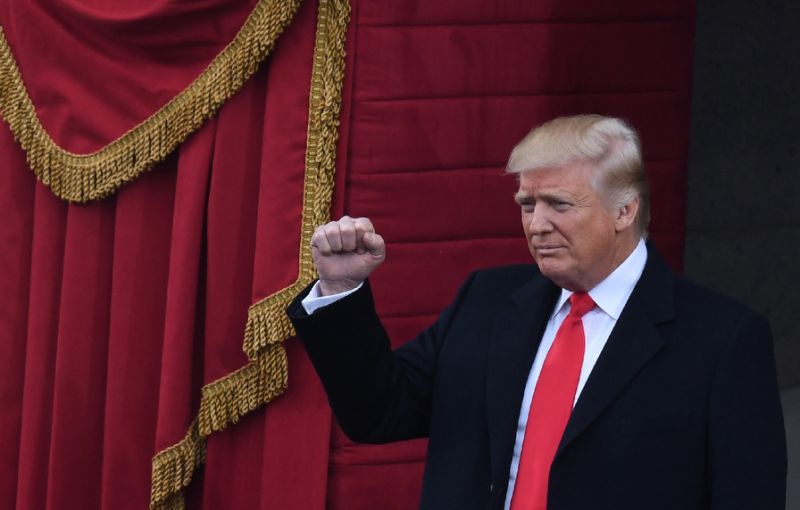 ---
WASHINGTON DC: President Donald Trump on Wednesday slammed a department store for dropping his daughter's clothing line, and lashed out at the US judiciary over its handling of his contentious travel ban - and that was all before lunch.

The day wrapped up with the hard-fought confirmation of Trump's nominee for attorney general Jeff Sessions - who has faced sustained attack over his record on civil rights.

Here are five takeaways from the day:

Trump upped the ante in his arm wrestle with the judicial branch, as it weighs his contentious travel ban targeting refugees and citizens of seven mostly-Muslim nations. Speaking to law enforcements officer at the White House, Trump expressed "amazement" over a hearing of three federal appeals judges, who are considering whether to reinstate the ban. Trump said what he heard in proceedings was "disgraceful, just disgraceful."

"I don't ever want to call a court biased, so I won't call it biased and we haven't had a decision yet. But courts seem to be so political," he said.

Trump sends letter of thanks to China's Xi

Trump's comments have sparked a firestorm in a country where such personal and vitriolic attacks by a president on another, independent branch of government are rare.

The uproar extended to Trump's own Supreme Court nominee Neil Gorsuch, who described Trump's prior attacks on the Seattle judge who froze the ban as "disheartening" and "demoralising."

The Trump administration has vowed to build a "wall" between the president and his sprawling business empire. But when Trump lashed out at department store Nordstrom for dropping his daughter's clothing line - purely on business grounds, according to the company - it cast the spotlight once more on the awkward intermingling of the presidency with Trump's family businesses.


My daughter Ivanka has been treated so unfairly by @Nordstrom. She is a great person -- always pushing me to do the right thing! Terrible!

— Donald J. Trump (@realDonaldTrump) February 8, 2017


Since his election, Trump has regularly used his Twitter feed to lambast individual companies - from General Motors to Boeing - be it for off-shoring jobs or allegedly overcharging the federal government for aircraft. But this tweet was different in that it sought to defend part of Trump's family business empire - which has been caught up in consumer boycott calls launched by opponents of the president.

White House spokesperson Sean Spicer defended Trump for speaking out in support of a family member. "There's clearly efforts to undermine that name based on her father's issues or particular policies," Spicer told reporters, saying it was "simply not acceptable and he has every right to speak out about it."

Suspect in Louvre attack says he did not get orders from Islamic state

Further playing into the debate over potential conflicts involving Trump's vast real estate interests, the Pentagon disclosed that it wants to rent space in Trump Tower in New York. First Lady Melania Trump and their son Barron are still living in the Manhattan skyscraper and the president plans to make regular visits. The space would be used for equipment and military personnel accompanying Trump during his stays there.

US presidents are accompanied around-the-clock by military personnel, notably those who carry the briefcase containing the nuclear codes that would enable him to launch an attack at a moment's notice. Renting a full floor in Trump Tower reportedly costs about $1.5 million a year.

After a fierce debate over his civil rights record and whether he would serve as the nation's top law enforcement officer independent from Trump, the US Senate confirmed Jeff Sessions as attorney general. Trump tweeted shortly after the Senate confirmation:


Congratulations to our new Attorney General, @SenatorSessions! pic.twitter.com/e0buP1K83z

— Donald J. Trump (@realDonaldTrump) February 9, 2017


Sessions, widely seen as an inspiration for Trump's anti-immigration policies, is just the sixth of 15 cabinet members to be confirmed, in addition to the cabinet-rank positions of CIA director and US ambassador to the United Nations.

He takes charge of the Justice Department and its 113,000 employees amid a swirling legal debate over Trump's travel ban, his most controversial White House action to date.

The debate turned ugly on Tuesday, when Senate Republican Majority Leader Mitch McConnell sternly rebuked Democrat Elizabeth Warren for reading a letter written by the widow of slain civil rights leader Martin Luther King Jr that criticised Sessions's civil rights record.

"Mr Sessions has used the awesome power of his office to chill the free exercise of the vote by black citizens," King wrote in an 1986 letter opposing Sessions's ultimately failed nomination as a federal judge.

When asked about the King letter, Spicer said he hoped the civil rights leader's widow would have backed Sessions were she still alive today. "I would respectfully disagree with her assessment of Senator Sessions then and now," said Spicer. "His record on civil and voting rights, I think, is outstanding."

US Senate panel receives ethics filings for Labour nominee Puzder

NBA superstar Stephen Curry stepped gamely into the political fray by responding to a description of Trump as a "real asset" to the country - made by the chief of Under Armour apparel, whose basketball gear the player endorses. "I agree with that description, if you remove the 'et' from asset," Curry told The Mercury News when asked about the comments from Kevin Plank.

Curry, who is under contract with Under Armour through 2024, endorsed Trump's rival Hillary Clinton for president and acknowledged he was surprised to hear Plank's comment in an interview this week.

The player said he was reassured by a Plank statement clarifying that he meant to say: "such a pro-business president is something that is a real asset for the country." But Curry added that he wouldn't rule out a departure from the company that manufactures his signature basketball shoe.

"If I can say the leadership is not in line with my core values, then there is no amount of money, there is no platform I wouldn't jump off if it wasn't in line with who I am," he said. "So that's a decision I will make every single day when I wake up."
COMMENTS
Comments are moderated and generally will be posted if they are on-topic and not abusive.
For more information, please see our Comments FAQ