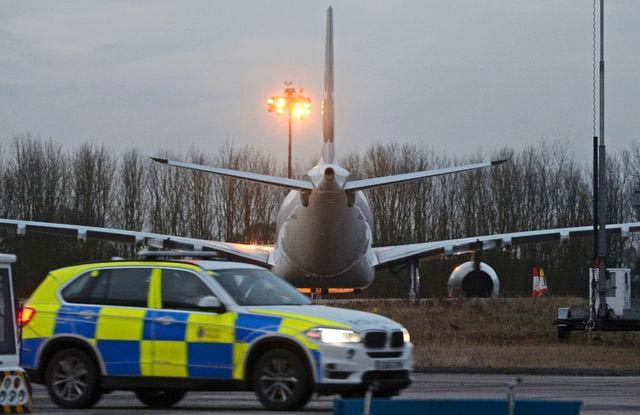 ---
A man arrested from a Pakistan International Airlines flight which was escorted to Stansted Airport by RAF fighter jets has been charged with fraud, Scotland Yard has stated.
A PIA flight was diverted while on its way from Lahore to Heathrow on Tuesday. A spokesman for Essex Police said, "An aircraft was diverted to Stansted Airport at around 3pm this afternoon, Tuesday, February 7, while over UK airspace en-route to Heathrow Airport due to reports of a disruptive passenger on board."

The man on-board the PIA flight was wanted by Met Police. Khalid Baqa, 52, from Barking has been charged with fraud and misrepresentation and was due to be arrested on arrival at Heathrow. The plane's diversion at Stansted Airport led to him being detained there.

PIA flight from Lahore to Karachi diverted to Muscat

PIA said in a statement, that UK authorities received a "vague security threat through an anonymous phone call."


Pakistan International Airline's press release on #Lahore-#Heathrow flight PK-757. #PakistanIntlAirlines @DanyalGilani #PIA pic.twitter.com/L2bwFZ3oFI

— PIA (@Official_PIA) February 7, 2017


A Met police spokesperson said: "It appears to be a coincidence that there was a passenger onboard who was due to be arrested in a pre-planned arrest.

"As far as we know it was not related to the divergence of the aircraft. Whether it was exacerbated by the passenger onboard who was to be arrested, we do not know," the spokesperson added according to The Sun.

Stansted is a designated airport that deals with major security alerts and hijacks. The PIA plane was held in an area away from the main airport, which remained open.

PIA flight diverted to Manchester after passengers leave toilets choked

Baqa, a father of six, was previously jailed for two years in 2012, after being charged with three counts of possession of terrorist material and one count of dissemination of terrorist material.