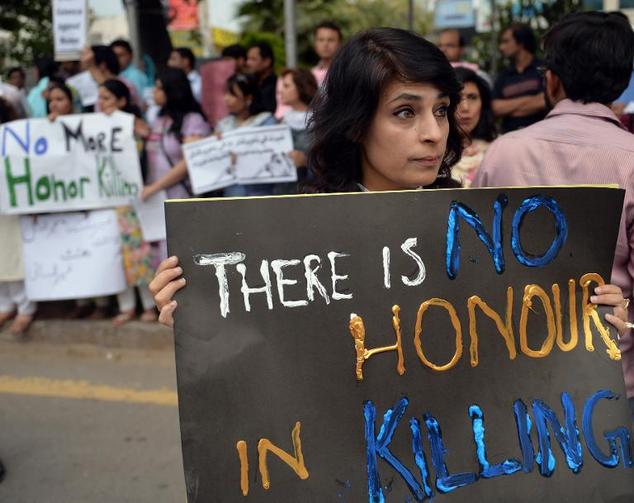 ---
PESHAWAR: Police have taken into custody the father of a man who allegedly killed his cousin on Monday in Khyber-Pakhtunkhwa's (K-P) Kohat district, apparently for working at a non-governmental organisation (NGO).

Thirty-year-old A*, a chartered accountant, was gunned down inside her home in Ustarzai Payan area of Kohat. According to the FIR that was lodged in Ustarzai police station of Kohat, the incident occurred around 7pm on February 6 when Mehboob Alam Khan, A's first cousin, came to her house and asked her to come along in the basement of the residence to have a word with her.

The FIR said Mehboob was upset over A's working for an NGO, which he considered against the honour of his family. However, reportedly she refused his demand saying that she was doing the job to bear her household expenses. Infuriated, Mehboob allegedly opened fire on her, killing her on the spot.

Talking to The Express Tribune, Kohat's District Police Officer (DPO) Javed Iqbal said they were conducting raids in the area to arrest the main accused.

"So far, his father has been taken into custody and we will reach the accused through him," he said. He said the K-P's inspector general of police had directed the police station concerned to take measures to arrest the accused as soon as possible.

A friend of the victim who also spent some time with her at the same NGO told The Express Tribune that A was the breadwinner of her family, which has no male member.

"Her only brother had already been killed by unidentified men in the area," she added. Some other people aware of her background said the victim also owned her family's property and her uncle, the accused's father, had been convincing her to marry his son – a proposal that she had been spurned.

Rights activists have demanded justice for the victim and her family and urged the police to immediately arrest the culprit. Saqibur Rehman, who campaigned for the victim on social media, said the FIR has been registered on behalf of the police as her family fears a backlash from the accused.

"We will raise our voice until justice is served to the victim and her family. We consider it a case of honour killing as she was killed for doing her job in an NGO," he said.

Published in The Express Tribune, February 9th, 2017.

Correction: In an earlier version of this story, Kohat's District Police Officer (DPO) Javed Iqbal was incorrectly given the title of  Deputy Superintendent of Police.