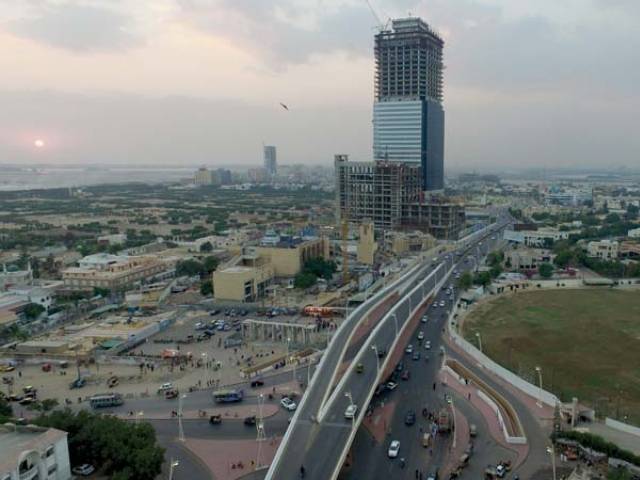 ---
KARACHI: Karachi is increasingly turning into a concrete jungle of illegal buildings but the regulatory agencies have become machines to make money, said Sindh High Court (SHC) Chief Justice Sajjad Ali Shah.

While heading a two-judge bench hearing a case regarding encroachments over 36-acre residential lands in Gulistan-e-Jauhar, the top provincial judge passed these remarks after an additional director of the Karachi Development Authority, Jameel Baloch, complained that some people were creating hurdles in removal of illegal encroachments from 36 acres of land in Scheme 36.

Anti-encroachment drive: CDA chief wants staff to work faster

The officer said he was receiving threats from some people, namely Bilal Manzar, Atif American and Imran Agha, adding that these people will be responsible if something happens to him.

He further said that the Rangers and police were not extending assistance for removal of encroachments. On the other hand, the KDA director said, the anti-corruption establishment (ACE) was raiding their offices and had gotten three FIRs registered against them.

The judges directed the provincial advocate-general, Zamir Ghumro, to summon ACE director Ghulam Qadir Thebo and the West DIG.

The bench granted one-week time to the director, Thebo, to search the files of the land in question and place the same before the court. The court also ordered the West DIG to provide adequate protection to the additional KDA director.

The judges further ordered them to register cases against the land grabbers and provide protection to the owners of the land. CJ Shah observed that the city was turning into the jungle of concrete buildings, inquiring from the officers that who was responsible for such a state of affairs.

He remarked that the KDA lacked the teeth to act against the violators, adding that the KDA, the Karachi Metropolitan Corporation and the Sindh Building Control Authority had turned into machines of making money.

In action: Anti-encroachment operations in three city centres

The top provincial judge noted that high-rise buildings were being raised on government land but no one was ready to take action against the land mafia, which had become so powerful.

Referring to the allegations levelled by the additional KDA director in the open court, CJ Shah remarked he was a senior officer of the grade 18 who was willing to take action but he was being harassed. He observed that the ACE's officers take away files of land from KDA's custody and then force the land owners to 'negotiate' with the land grabbers.

ACE director Ghulam Qadir Thebo explained that the files were taken away from the KDA office in the presence of a judicial magistrate but were later returned after verification.

Published in The Express Tribune, February 9th, 2017.
COMMENTS (1)
Comments are moderated and generally will be posted if they are on-topic and not abusive.
For more information, please see our Comments FAQ