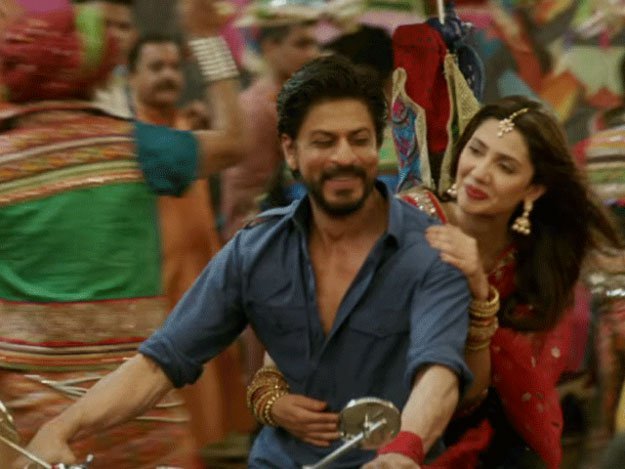 ---
ISLAMABAD:
Pakistan's ban on Mahira-SRK starrer Raees has sparked a social media backlash after the film was denounced for portraying Muslims as 'terrorists'.
The government decision to bar the 2017 action film came after Pakistani cinemas lifted their own ban on Indian films.
Bollywood movies and Shah Rukh Khan in particular are immensely popular in Pakistan and the film also stars Pakistan's leading actress, Mahira Khan.
Here's what Sunny Leone has to say about Mahira Khan
But the industry has become a political battleground amid heightened tensions between the nuclear-armed states in the disputed Kashmir region.
The film "portrays Muslims as terrorists and violent people", Mubahsar Hassan, chairman of the Pakistan Film Censor Board, told AFP. 
A second official complained about the comparison between Muslims and Hindus. "This film gave a message that all Muslims do bad things and are involved in crimes while Hindus are gentlemen and they stop them from the dirty work," he told AFP on condition of anonymity.
But fans dismissed the concerns, with many arguing that art can be about politics but politics should have no place in art:
This ban on #Raees is an example of the kind of absurdities Pakistan's moral crusaders and grovelling bureaucrats can attain on their own.

— Hasan Zaidi (@hyzaidi) February 6, 2017
Official "We have banned Raees to make sure there is no hate speech"
Extremist "Err..Doe that mean.."
Official "No, no, you guys are good"

— Fasi Zaka (@fasi_zaka) February 6, 2017
YouTube ban kia, main chup raha
Careem/Uber ban ki, main chup raha
Lekin ab main chup nahi rahunga Judge Sb!#Raees Kyon Ban Ki
Ban Ki Moon!

— Omair Alavi (@omair78) February 6, 2017
The reasons for banning #Raees in #Pakistan are ridiculous... Period!!!

— Faridoon Shahryar (@iFaridoon) February 7, 2017


https://twitter.com/Zaid_PTI/status/828706296299937793


#Raees 💔 sorry guys, I underestimated the nuisance value of the censor board.

— AHI (@aamnaisani) February 6, 2017
Pakistani cinemas last October announced a ban on Indian films following strained relations between Islamabad and Delhi, lifting it only last month.
Mahira, SRK's new song is making the wait for Raees even harder
For its part, the Indian Motion Pictures Producers Association banned Pakistani actors and technicians from working on Bollywood sets after last year's tensions.
India and Pakistan have fought three wars since independence from Britain seven decades ago, two of them over Kashmir.
The Pakistani censor board officials said other Bollywood films such as "Kabil" and "Ae Dil hai Mushkil" can still be shown as they do not contain objectionable content.
COMMENTS (9)
Comments are moderated and generally will be posted if they are on-topic and not abusive.
For more information, please see our Comments FAQ