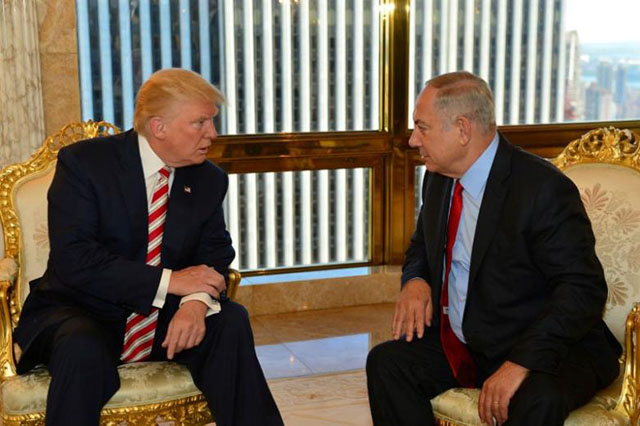 ---
Israeli Prime Minister Benjamin Netanyahu and new U.S. President Donald Trump, seizing on an Iranian missile test, are nearing common ground on a tougher U.S. policy towards Tehran ahead of their first face-to-face talks at the White House.

But people familiar with the Trump administration's thinking say that its evolving strategy is likely to be aimed not at dismantling Iran's July 2015 nuclear deal with six world powers, as presidential candidate Trump sometimes advocated, but tightening its enforcement and pressuring the Islamic Republic into renegotiating key provisions.

Mexico rebukes Israel over Netanyahu wall tweet

Options under consideration, they say, would include wider scrutiny of Iran's compliance by the International Atomic Energy Agency, the U.N. nuclear watchdog, including access to Iranian military sites, and seeking to remove "sunset" terms that allow some curbs on Iranian nuclear activity to start expiring in 10 years and lift other limits after 15 years.

In a shift of position for Netanyahu, all signs in Israel point to him being on board with the emerging U.S. plan, though it may prove impossible to get other world powers and Iran to consider revising the landmark nuclear deal.

Two years ago, Netanyahu infuriated the Obama White House by addressing the U.S. Congress to rally hawkish opposition to a budding Iran pact he condemned as a "historic mistake" that should be torn up. As Trump and Netanyahu prepare for their Feb. 15 meeting, focus has shifted to Iran's ballistic missile test last week.

Trump to Israel: will recognise Jerusalem as Israel's 'undivided' capital

The White House said the missile launch was not a direct breach of the nuclear deal but "violates the spirit of that". Trump responded by slapping fresh sanctions on individuals and entities, some of them linked to Iran's elite Revolutionary Guards (IRGC).

A U.N. Security Council resolution underpinning the nuclear pact urges Iran to refrain from testing missiles designed to be able to carry nuclear warheads, but imposes no obligation.

However, Trump tweeted, "Iran is playing with fire" and "they don't appreciate how 'kind' President Obama was to them. Not me!" Trump's national security adviser, Michael Flynn, warned that Washington "would no longer tolerate Iran's provocations." Netanyahu "appreciated" the comments.

Trump hails Israel as 'beacon of hope'

Ayatollah Ali Khamenei, Iran's supreme leader, on Tuesday dismissed the U.S. decision to put Iran "on notice" over its missile tests and called Trump the "real face" of American corruption. Iranian Foreign Minister Mohammad Javad Zarif was quoted as saying Iran would not renegotiate the nuclear deal.

Meeting of minds over missile test

Beyond the rhetoric, the missile test gave the new Republican president and the conservative Israeli leader - who had an often acrimonious relationship with Trump's Democratic predecessor Barack Obama - an early chance to show they are on the same page in seeking to restrain Iranian military ambitions.

Netanyahu wrote on Facebook last week: "At my upcoming meeting with President Trump in Washington, I intend to raise the renewal of sanctions against Iran in this context and in other contexts. Iranian aggression must not go unanswered."

Trump team eyes proposed new non-nuclear sanctions on Iran

In London for talks with British Prime Minister Theresa May on Monday, Netanyahu said "responsible" nations should follow Trump's imposition of new sanctions as Iran remained a deadly menace to Israel and "threatens the world".

But he stopped short of any call to cancel the nuclear accord. Israeli officials privately acknowledged that he would not advocate ripping up a deal that has been emphatically reaffirmed by the other big power signatories - Britain, France, Germany, Russia and China - since Trump's election victory.

Russia said on Monday it disagreed with Trump's assessment of Iran as "the number one terrorist state" and a Russian diplomat said any move to rework the nuclear pact would inflame Middle East tensions. "Don't try to fix what is not broken," Deputy Foreign Minister Sergei Ryabkov said.

Egypt's Sisi, Trump agree on UN Israel vote delay

Trump's stance could weaken the hand of pragmatists in Tehran who have been willing to negotiate a detente with the West after decades of volatile confrontation, a former senior Iranian official said.

Under the accord, Tehran received relief from global economic sanctions and in return committed to capping its uranium enrichment well below the level needed for bomb-grade material, cutting the number of its centrifuge enrichment machines by two-thirds, reducing its enriched uranium stockpile and submitting to a more intrusive IAEA inspections regime.

Trump adopts aggressive posture toward Iran after missile launch

Diplomats close to the IAEA consider the deal a success so far, voicing little concern with overall Iranian compliance - despite Netanyahu's insistence that it will only pave the Islamic Republic's path towards nuclear weapons once major restrictions expire 15 years after its signing.

Pressure points other than scrapping deal

With German, French and British firms busy cultivating new business with Iran, Washington's peers in the six-power group almost surely would rebuff any U.S. thrust to reopen the deal.

Daniel Shapiro, who recently ended his tenure as U.S. ambassador to Israel under Obama, told Reuters he would be surprised if Trump and Netanyahu "determined so early in the time working together that they would rather scrap that agreement than try to enforce it in a tough manner and put other pressures unrelated to that deal on the Iranians".

CIA chief warns Trump against ripping up Iran deal

Some foreign policy experts say U.S. efforts to tighten the screws on Iran could seek to goad it into ditching the nuclear accord in hopes that Tehran - and not Washington - would then have to shoulder international blame for its collapse.

According to Israel's Haaretz newspaper, an Israeli intelligence assessment recently presented to Netanyahu said revoking the pact would be an error, causing a chasm between Washington and other signatories like Russia and China.

Amos Yadlin, former head of Israeli military intelligence, said there were many areas outside the deal where pressure could be applied on Iran to change what he called its negative behavior of "subversiveness, supporting terrorism".

But beyond new sanctions and sharpened rhetoric, analysts say, it is unclear how far Trump could go. Arguments for restraint would include the risk of military escalation in the Gulf, out of which 40 percent of the world's seaborne crude oil is shipped, and strong European support for the nuclear deal.

Trump to develop missile defense system against Iran, North Korea

Though the new U.S. strategy is in the early stages of development, the Trump administration, the sources say, is considering a range of measures, including seeking "zero tolerance" for any Iranian violations.

Trump's aides accused the Obama administration of turning a blind eye to some alleged Iranian infractions to avoid anything that would undermine confidence in the integrity of the deal. Obama administration officials denied being "soft" on Iran.

Other U.S. strategy options, the sources say, include sanctioning Iranian industries that aid missile development and designating as a terrorist group the Revolutionary Guards, accused by U.S. officials of fuelling Middle East proxy wars. That designation could also dissuade foreign investment in Iran because the Guards oversee a sprawling business empire there.
COMMENTS
Comments are moderated and generally will be posted if they are on-topic and not abusive.
For more information, please see our Comments FAQ