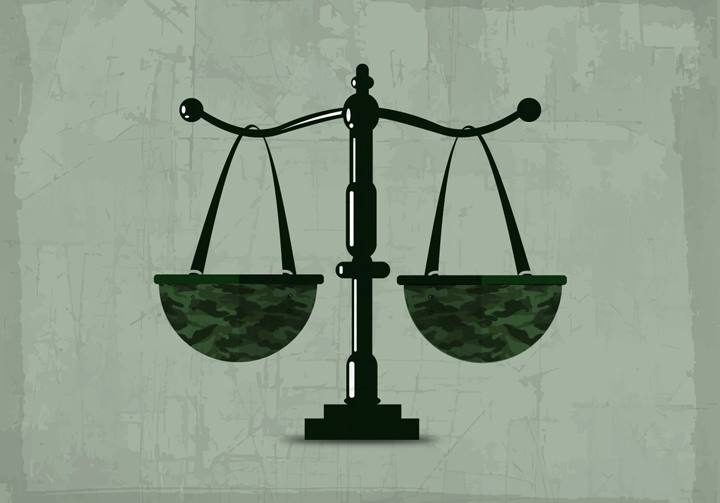 ---
ISLAMABAD: A stalemate between the government and opposition on the revival of military courts all but ended after a briefing by top military officials to federal lawmakers on Tuesday.

The development was followed by a general agreement between political stakeholders to introduce the 25th constitutional amendment to extend the courts' tenure, sources said.

Although the government's key allies skipped the meeting of the parliamentary committee on military courts' extension convened by National Assembly Speaker Ayaz Sadiq, parliamentary leaders of opposition parties appeared amenable to such a move. Finance Minister Ishaq Dar, Law Minister Zahid Hamid and other senior officials represented the government — Interior Minister Chaudhry Nisar opted to stay away.

PPP to oppose extension for military courts

Sources privy to the crucial huddle said the top military leadership led by Director General Military Intelligence Maj Gen Nadeem Zaki Manj and representatives from the Inter-Services Intelligence and Judge Advocate General (JAC) branch briefed the panel about the performance of the military courts.

After the briefing, participants of the meeting agreed that the performance of the courts was 'beyond question', insiders said. They agreed to introduce the 25th amendment to extend the courts' tenure for two years and decided to further deliberate on the issue in the next meeting on February 16, sources added. According to them, a breakthrough is likely in the next meeting.

Speaking to The Express Tribune, Awami Muslim League chief Sheikh Rashid said the opposition had reservations over the matter but were willing to evolve consensus on military courts. "Given the circumstances, this has to be done. We hold serious reservations towards the attitude of the government but hopefully things would be okay after the next meeting."

Govt mulls reinstatement of military courts

Sources quoted PML-Zia chief Ijazul Haq as pointing out that the government's two allies, JUI-F and PkMAP, were not in the meeting while the government expected from the opposition to extend support on the military courts.

Upon this, the law minister assured that the government would take its allies into confidence over the introduction of the constitutional amendment. Reportedly, his explanation was seconded by the finance minister. "It's our job, leave it to us. Don't worry about it," Dar said, according to sources.

Pakistan Tehreek-e-Insaf Vice Chairman Shah Mahmood Qureshi reportedly said in the meeting that the opposition parties were fully convinced with the military officials' briefing but their reservations regarding federal government were unanswered.

Parliamentary leaders summoned to decide fate of military courts

"We acknowledge the sacrifices made by our security forces in making our country safe and secure that it is today. But federal government has failed to answer our questions. However, in broader national interest, we are ready to support if any amendment is introduced to extend military courts' tenure," he said, reportedly.

Published in The Express Tribune, February 8th, 2017.