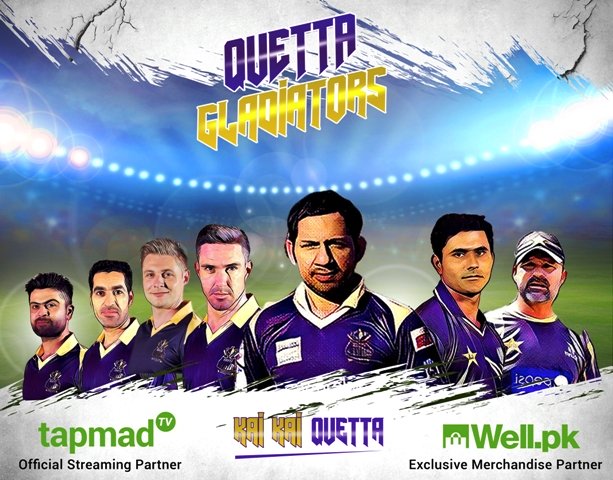 ---
As the Quetta Gladiators are gearing up to embark on the second season of Pakistan Super League (PSL), the franchise has something interesting to woo and wow their fans with. For the distribution of its merchandise and live streaming of its matches, the team has officially partnered with the fastest growing online store, Well.pk and the latest Live TV in HD, TapMad TV respectively.




This association simply denotes that gladiator fans are no longer needed to wander in the market or scour the internet to pick up merchandise of their favourite team. Also, with seamless live-streaming of all the matches of Quetta Gladiators at one place, fans can easily stay updated and enjoy enthralling performances of the team.

How it works:

Tapmad will be streaming Quetta Gladiators matches Live in HD on all devices, including mobile-phones. Anytime, anywhere, any device, Tapmad is an app made for "Pakistanis by Pakistanis".

To sell QG merchandise, Well.pk plans to launch a dedicated page for the franchise that will exclusively stock the merchandise including t-shirts, bats, key chains and other accessories with the team's logo on it. Tapmad is also powering QGTV, the new Quetta Gladiators TV channel on www.quettagladiators.com.

To make things more exciting, the franchise also offers the chance to buy items right off of the screen. This means, while fans are live-streaming the Quetta Gladiators matches via TapMad, and they want to shop for attire or merchandise worn by the player-in-action, they can easily do so by clicking on the ad and confirming the order right there and then. When a player takes a wicket or hits a boundary, an ad will pop up on the screen with an order form to Well.pk and they will be able to shop the complete range of merchandise. This 'see now, buy now' experience is definitely going to be a one of a kind feature exclusively available for Quetta Gladiators' fans that only became possible with this collaboration.

PSL is the most sought-after sporting event in Pakistan and has a huge fan following across all age groups. With the whole nation drenched in the fervour and enthusiasm of this cricketing event, this is indeed a great way for the Quetta Gladiators to carve out an impressive image and render convenience to their fans.

"We are very proud to be associated with one of the five largest sports franchises in Pakistan. This is another step in our commitment to cricket in Pakistan, we look forward to a long and fruitful partnership", said Yassir Pasha, CEO of Tapmad.

PSL begins on February 09, with Peshawar Zalmi facing Islamabad United; whereas the Quetta Gladiators will play their first match on February 10 against the Lahore Qalandars.
COMMENTS
Comments are moderated and generally will be posted if they are on-topic and not abusive.
For more information, please see our Comments FAQ