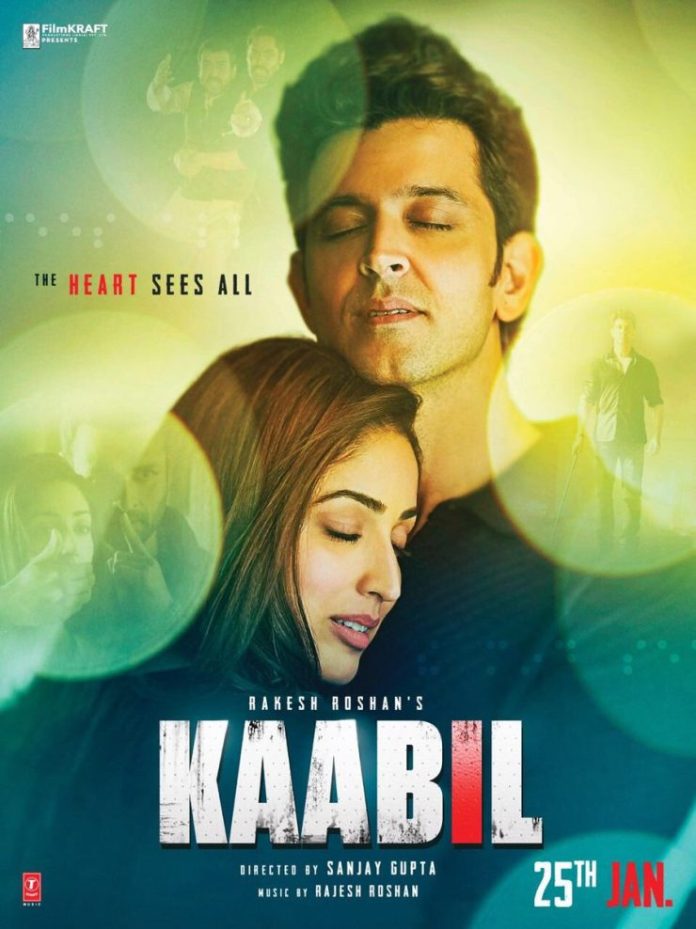 ---
KARACHI: It is my longstanding belief that an actor's abilities are reflected through their eyes. Putting body language and expressions aside, if the eyes don't evoke the required emotion within the viewer, their performance is not good enough.

It is exactly that which makes Kaabil interesting, because it takes away Hrithik Roshan's eyes. Undoubtedly, he has delivered his best performance since 2010's Guzaarish, proving that he is indeed, a 'kaabil' actor.

Sussanne Khan all praise for Hrithik's Kaabil performance

Directed by Sanjay Gupta, the film is a formulaic revenge story which revolves around a visually-impaired man named Rohan (Roshan) avenging the death of his also visually-impaired wife Su (Yami Gautam). In that, Kaabil doesn't break any new grounds and one might even be tempted to call the drama forgettable.

But the well-crafted story comes to life, thanks to power-packed performances by the two leads. Gautam holds her own opposite a seasoned actor like Roshan; her portrayal of Su is as sympathetic, yet strong-willed as it could be.

In the first half, life is beautiful as, in Su's words, "Two negatives make a positive." A pianist by profession, Su completes Rohan's life and the two innocent souls are enjoying married life until tragedy strikes.

It helps greatly that the two antagonists, Madhavrao Shellar (Ronit Roy) and Amit (Rohit Roy) also come off as strong characters. Their performance as the villains is enough to ignite as much rage in you, as it does in Rohan. Shellar's dialogues are so well-written that he comes off as a right, natural prick. From his first scene to his last, the character is a stubborn and proud politician whose desire to win elections overtakes his regard for those who are supposed to vote for him, painting a gritty and real picture of the dirty world of politics.

Rakesh Roshan urges India to 'move forward' as he welcomes Kaabil's release in Pakistan

Gupta must be commended for his direction and successfully telling a story that could have become a big mess if not executed properly. His biggest win is convincing the audience that a blind man can in fact do anything. A scene where Rohan stands up for his wife saying "Kamzor mat samajh (Don't think I'm weak)" sums up Gupta's objective: presenting people with special needs as being just as able as those without.

The director's talent shines in a scene where Rohan and Su get separated in the mall. You cannot help but feel pain and anxiety for the two lovers. Even the action sequences have a certain finesse to them, similar to that of Korean films. Traces of Gupta's previous explorations with Korean cinema (his 2006 film Zinda being an adaptation of Park Chan-wook's Oldboy) are eminent throughout Kaabil.

Even the songs are placed at appropriate times, enhancing the melancholically angry mood set in the first half, except for one item number which is a remixed version of Haseeno Ka Deewana. It serves little purpose, other than to introduce an important location. In fact, the song ends up distracting you from the story with its upbeat tunes and typical item song visuals: colorful flickering lights, grand sets and a foxy show girl. It slightly lessens the impact of the climax.

SRK, Hrithik exchange sweet tweets as Raees and Kaabil clash

But despite these minimal flaws, Kaabil is more than an average film, mainly because of Roshan and Ronit's work. Judging from this, the former seems more able than the three Khans combined.

Verdict: Go watch Kaabil because it ends the drought of recent mediocre local films. On its own, the film is a memorable watch, thanks to Roshan's compelling performance.

Rating: 3.5 out of 5 stars

Have something to add to the story? Share it in the comments below.
COMMENTS
Comments are moderated and generally will be posted if they are on-topic and not abusive.
For more information, please see our Comments FAQ