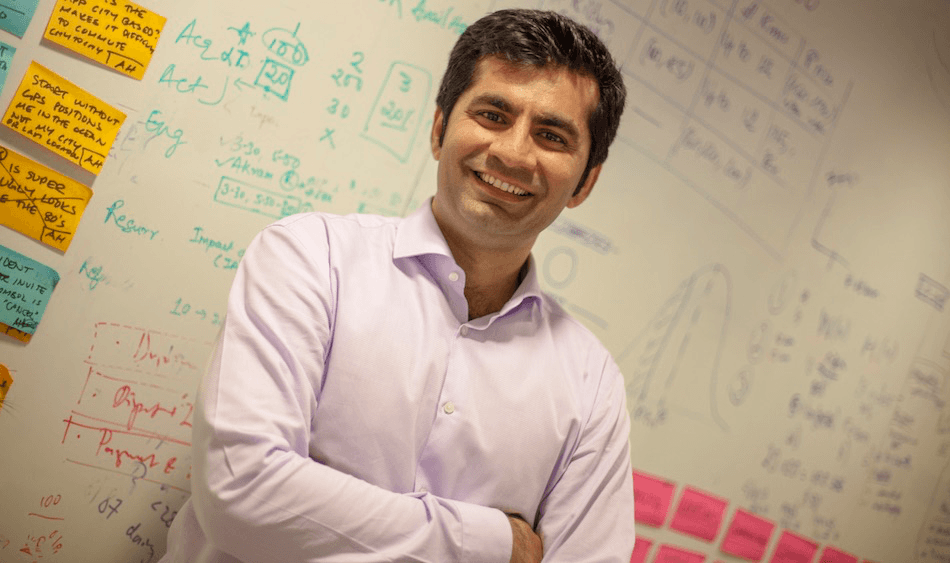 ---
Mudassir Sheikha is the CEO and co-founder of ride-hailing app Careem, one of the hottest startups on the Asian continent.

In December, it raised US$350 million from superstar investors such as Rakuten and Abraaj Capital, making it the newest unicorn in the transportation space.

It's been quite a journey for Mudassir and his Dubai-headquartered company since starting up less than five years ago. Careem is now operational in 50 cities across 11 countries. It counts 180,000 registered drivers, which it refers to as "captains," and claims to have served over 8 million customers.

Mudassir and team have hustled their way to regional dominance, competing with Uber with a mere fraction of the resources that the San Francisco-headquartered behemoth has at its disposal.

So how exactly should entrepreneurs take their idea from zero to one? What's the billion-dollar mindset? How do you build companies to last?

This Pakistani helped raise $350 million to slaughter Uber

Mudassir addressed these queries and more during a keynote presentation yesterday atMomentum in Karachi, Pakistan.

He identified four main factors which he believes were crucial in propelling Careem from a mere idea to where it is today.

Think big

"You have to think big from day one," said Mudassir. "Sure you can open a retail store, but it's going to be difficult to make it into a large business – a billion-dollar business. The first thing you have to target is a big problem and a big opportunity."

The idea behind Careem wasn't simply to replicate what other startups were doing in the West. He and his co-founder, Magnus Olsson, were both former management consultants for McKinsey. The duo were stationed in Dubai but frequently traveled across the Middle East and Pakistan.

As consultants, they had to constantly deal with the abhorrent public transport options in their markets. That was a huge pain – taxi drivers would frequently rip them off and they didn't feel safe traveling in those rickety cars.

On-demand services were unheard of in the region at that time. So both Mudassir and Magnus quit their jobs, invested a lot of their own capital, and hunkered down for the long journey ahead.

"We wanted to seize the opportunity because it was an unexplored area and we felt the potential to scale was there," said Mudassir to the audience.

Think big

The billion-dollar CEO is a firm believer in treating your startup like a baby and nurturing it the same way a loving parent would.

He explained it's essential to instill the right values in your organization – to make sure culture seeps down from the top and everyone on the team is cognizant of the ideals they should aspire towards.

"If you teach your kids not to lie and make sure they adhere to it, then they'll eventually learn and carry that with them forever. But if you don't do that, and don't have a close relationship with them, then they'll grow up with indifferent values," he said.

"Organizations are similar, they have values and aspirations as well. The companies that have been around for hundreds of years have these values instilled in their DNA. Our mindset, from day one, was to make something to last."

As a corollary, the idea to start a business shouldn't be predicated on an exit strategy. "It's not the right mindset you should go into a startup with," added Mudassir.




If an entrepreneur is truly committed to solving problems and reducing inefficiencies then they'll carry on with that, come what may. And to build lasting institutions, ones that will outlive them as well as their future generations, founders need to treat the early years with the utmost of care.

"There's nothing wrong with an exit, but it shouldn't be your overwhelming priority," he stated.

To further explain his point about culture and setting examples, Mudassir said he frequently takes red-eye flights and inconvenient connections just to save money.

"I'm happy even if I save 200 dirhams" – that US$55 – "each time," he laughed.

"Sure people might say Careem has the cash now but I don't want anyone in the company to think I'm being extravagant or living a flashy lifestyle. If you won't demonstrate and lead by example, then your teammates won't either."

Growth needs curation

"You can't just expect to launch a product and expect that it'll take off automatically," asserted Mudassir. "It's a lot of hard work, curation, measurement, and feedback."

The former consultant explained that at Careem they're obsessed with data and growth. Each city – all 50 of them – is monitored every 15 minutes. An analyst can crunch the numbers and tell you whether the growth in those 15 minutes was more or less than the previous day, or even the same time last week.

If numbers are going down then there's someone from HQ on the phone with local teams on the ground, to figure out how to improve, and whether there's an issue of product-market fit, weather conditions, or something else.

"You cannot improve anything that you cannot measure. That's why growth and measurement are deep deep in our DNA," he said.

Careem valued at $1b on Saudi Telecom deal

"And the best part about growth is that it compounds. If you give yourself a target of growing 25 percent month on month, then you'll grow 10x each year. By the third 10x, we were sitting at a 100 million valuation. You can too," he told the audience.

Your team is the sharpest weapon

Mudassir and Magnus didn't have much money to throw around in the early days grinding in the insane heat of Dubai.

That was a problem – they wanted to hire savvy, technical, and qualified employees to grow quickly but the lack of cash meant that they couldn't even match existing market salaries.

Mudassir admitted to having sleepless nights in those days.

"We placed a lot of emphasis on getting the right people. You can have an amazing idea but if you don't have the right talent to execute then your plans are utterly useless. We were so cash-strapped early on that we could only offer half of what people were used to," he said.

But there was a surprising benefit to this quandary. Careem's early hires ticked all the right boxes in terms of their job capabilities, and they also bought into the vision of what Mudassir was trying to build.

"That's why we became who we are today – you need to get capable people but they also need to enliven the culture of the workplace," he added.

This article originally appeared on Tech in Asia.
COMMENTS (5)
Comments are moderated and generally will be posted if they are on-topic and not abusive.
For more information, please see our Comments FAQ