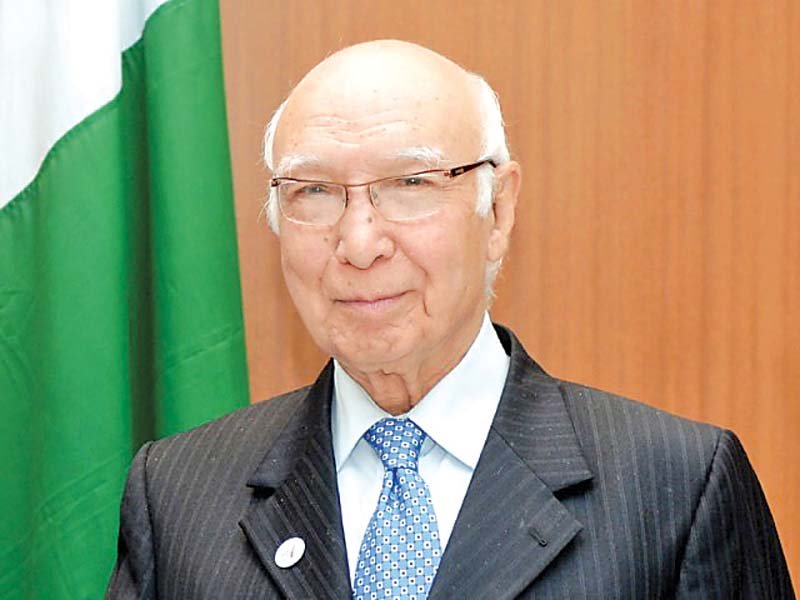 ---
ISLAMABAD: Prime Minister's Adviser on Foreign Affairs Sartaj Aziz said Pakistan is determined to take action against all terrorist networks in the country, without distinction or discrimination enabling it to be a 'net provider, rather than a net taker' of security in the region.

Speaking at a joint news conference with Foreign Minister of Bahrain Shaikh Khalid bin Ahmed bin Mohamed al Khalifa after co-chairing Pak-Bahrain Joint Ministerial Commission (JMC) meeting, the adviser said Pakistan had been one of the first countries to bear the brunt of terrorism.

"However, by grace of Allah, today we have achieved relative stability by decisively defeating the terrorist threat in our country," he remarked.




He said this success was an outcome of the vision and steadfastness of Pakistan's leadership, the blood and toil of its valiant armed forces, and the enviable resilience and unshakeable faith of its people.

"Today, Alhamdulillah, as a lead player in the volatile global security environment, Pakistan is a net provider, rather than a net taker, of security in the region."

The adviser said this hard earned stability in the country had paved the way for enhanced economic activity and progress not only in Pakistan but in the entire region.

Highlighting the immense potential of the China-Pakistan Economic Corridor (CPEC) project, Sartaj said Pakistan would invite Bahrain to benefit from the country's expertise in countering terrorism and the CPEC project.

Talking about the current security challenges, the adviser said the Muslim Ummah was faced with daunting challenges of terrorism, extremism, sectarianism which had resulted in serious security and economic crisis.

"In this rapidly changing geo-strategic environment, there is a strong need that Pakistan and Bahrain strengthen mutual cooperation in the fields of defence and security," he stressed.

Pak-Bahrain trade ties

The two sides discussed ways and means to enhance trade and commercial ties. The adviser said trade served as a catalyst in improving political and economic relations between countries.

"However, our bilateral trade is presently much below the potential of both the countries. Leadership of both countries are fully cognisant of this fact," he pointed out.

Speaking on the occasion, Minister for Foreign Affairs of Bahrain said the two sides signed two MoUs on cooperation in agriculture and diplomatic service training.

He underscored the need for frequent interaction between Pakistan and Bahrain to forge collaboration in different fields.

He added the two sides have good cooperation in defence, economy and political consultations.

The foreign minister said besides discussing further mutual collaboration they also discussed Pakistan-GCC cooperation.

Published in The Express Tribune, February 7th, 2017.
COMMENTS
Comments are moderated and generally will be posted if they are on-topic and not abusive.
For more information, please see our Comments FAQ