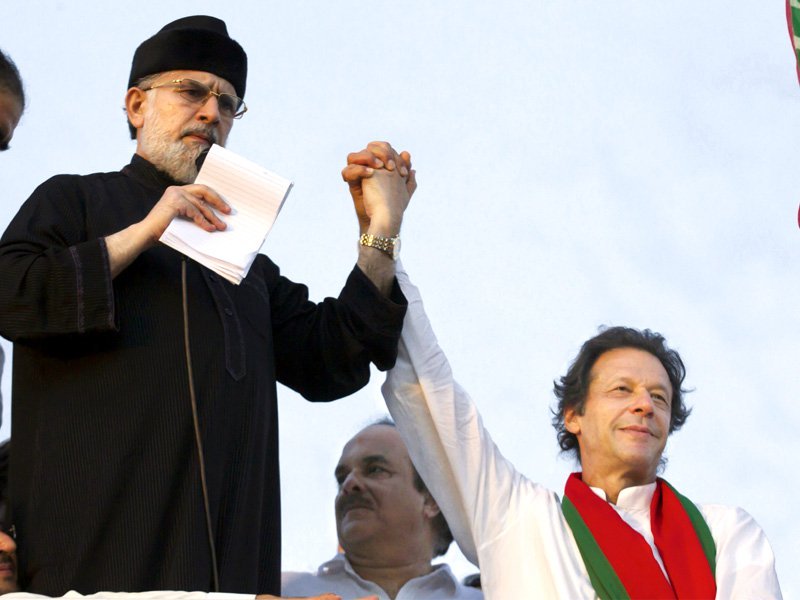 ---
HARIPUR: Calling the PTI chief Imran Khan and the PAT chief Dr Tahirul Qadri 'fanatics', Minister for Railways Saad Rafique has said the two leaders wanted bloodshed in the country for their personal interest.

"But we [PML-N] responded in a democratic way rather than using force as we have a long history of offering sacrifices for democracy," Rafique said on Monday in a reference to the PTI-PAT marathon anti-government sit-in in Islamabad in 2014.

"We will continue to render sacrifices for democracy and not allow anyone to take over the government unlawfully," he added while speaking to participants of a PML-N worker convention in Haripur.

The minister accused the PTI of doing 'negative politics', which, he claimed, had considerably damaged its popularity, which will further shrink by the next election.

"Due to its dwindling popularity, the PTI has started accusing even an international organisation that conducted a survey and declared that PM Nawaz Sharif is the most popular leader," he said.

He said the PTI has been performing the role of 'Bi Jamalo' [fire-setter] in parliament from the day one and has a non-serious attitude.

Responding to the PTI's demand that the PM must give his 'Talashi' [ie, present himself for accountability], he said the PML-N leadership had faced accountability several times in the past.

"But now it is the PTI's turn to tell the nation where they spent Rs1 billion earmarked for tree plantation and what is the status of the Khyber Bank case," he added.

PML-N leaders – Dr Asif Kirmani, Pir Sabir Shah, Umer Ayub, MNA Babar Nawaz – were among those who spoke to the workers.

Published in The Express Tribune, February 7th, 2017.