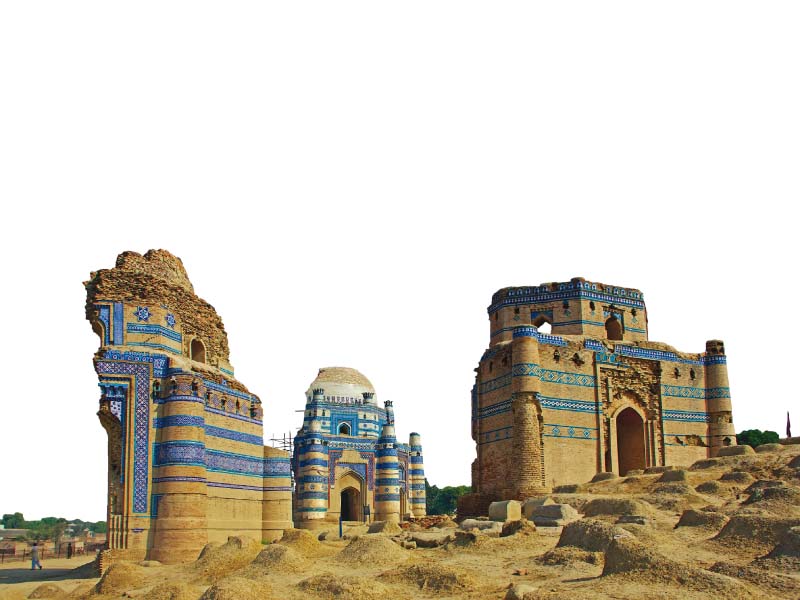 ---
BAHAWALPUR: The historic city of Uch Sharif where the culture of shrine worship took root, is located approximately 80 kilometres from the city of Bahawalpur. Uch was founded by Alexander the Great and later came under the control of the Delhi Sultanate. It was built near a place called Panjnad where all of the Indus rivers meet. Uch used to be a centre of political and cultural activities and is home to myriad of mosques and shrines.

However, the government's neglect and attention has turned this city, especially the historical tombs into ruins. The department of archaeology's efforts also seemed limited to the paper work, while NGOs, who get funds worth millions for restoration of the tombs, have failed to materialise their commitment. Besides, the area lacks residential arrangements for the tourists.

Multan's historical buildings to get makeover

Some of the most popular shrines in Uch are those of Bibi Jawindi, Baha'al-Halim and Jalaluddin Bukhari – all of which are concentrated in a compound known as Uch Sharif and are listed as a Unesco World Heritage Site.

While speaking to The Express Tribune, social leaders Muhammad Farooq, Kaleemullah, Ibrahim and Muhammad Ishaq said Uch Sharif is a land of religion and saints. They added the tombs of sufi saints are in a shambles due to lack of government's attention. "The saints living in this city spread the light of Islam and education in the whole world but now there is no one to look after their tombs," they maintained.

They pointed out if immediate attention is not given to preserve these historic buildings, nothing will be found of their existence in the coming days.

The Oxford University has included some of the tombs and other buildings in Uch Sharif in the subject of archaeology in order to create awareness among the students.

Muhammad Ajmal, a resident of Uch Sharif told The Express Tribune, "Historians say this place has been the centre of education and thousands have embraced Islam through the preaching of these saints but now due to the lack of government's neglect it is turning into dust."

Conservation of Buddhist, Mughal era historical sites in Punjab on the cards

Another resident Basit Afzal said, "This place can become a hub for the tourists but due to lack of arrangements and facilities for the tourists, tourism has been affected badly.

He said, "If the government pays attention towards the promotion of tourism in the area, local business will flourish greatly."

On the other hand officials from archaeological department said work has been done on restoration of Bibi Jawendi's Tomb but due to lack of funds, repair and maintenance work on other tombs could not be initiated.

They demanded the prime minister and Punjab chief minister to take notice of the situation and release funds for restoration of shrines.

Published in The Express Tribune, February 7th, 2017.