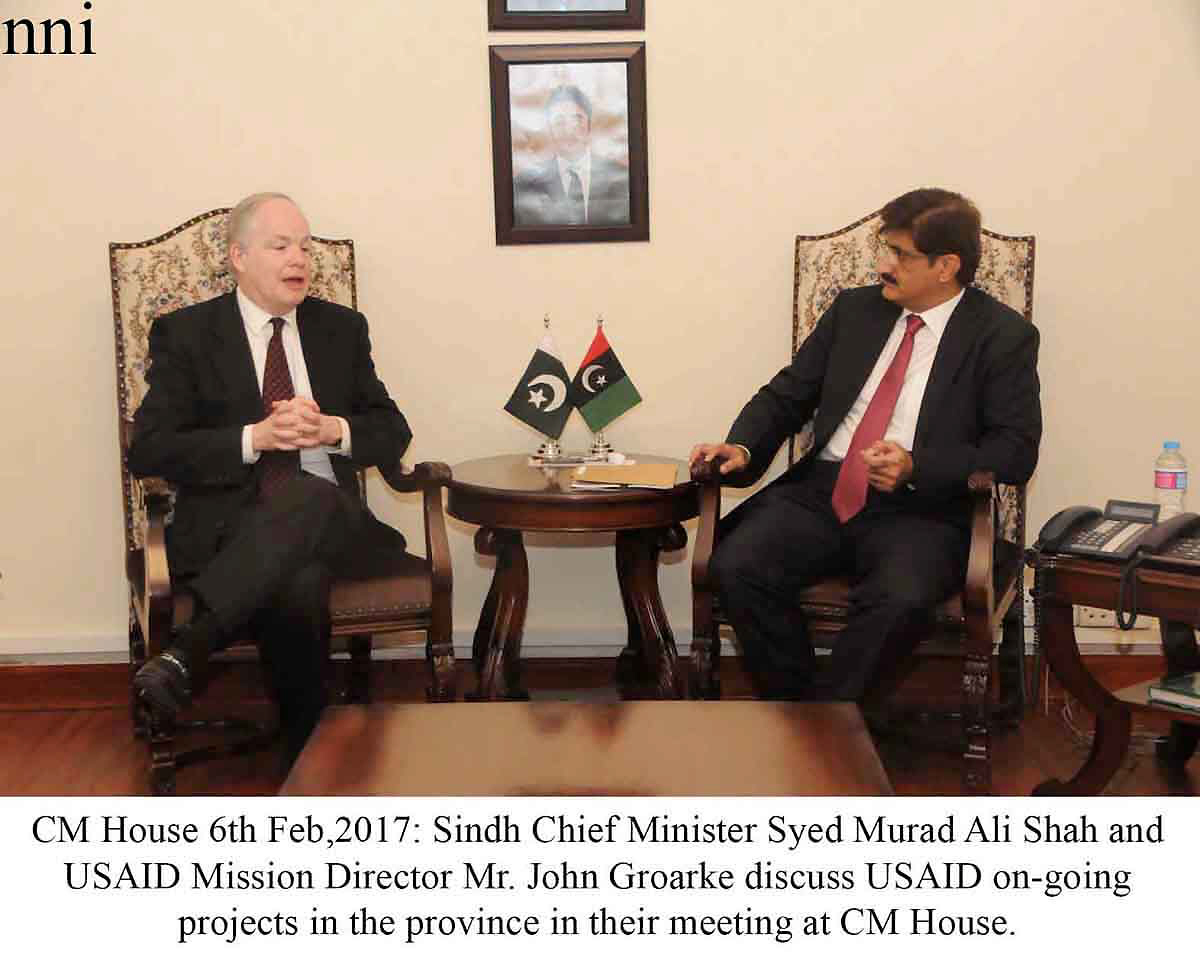 ---
KARACHI: United States Agency for International Development (USAID) has vowed to continue its support for the people of Sindh through a range of progammes focusing on energy, economic growth and agriculture, resilience, education and health sectors.

This was discussed between the Sindh chief minister and a USAID delegation led by mission director John Groarke, who met Murad Ali Shah and other officials on Monday.

USAID has launched a $66 million Sindh Municipal Services Programme (MSP) aimed at improving public infrastructure and municipal services in Northern Sindh. The MSP's centerpiece is the Jacobabad Municipal Project, which works to improve water, sanitation and solid waste infrastructure. The MSP is expected to deliver clean drinking water to more than 250,000 people. Since 2014, USAID has also partnered with the United Nations International Children's Emergency Fund (UNICEF) to support MSP through social mobilisation and capacity development initiatives.

During the meeting, Shah said that over 80% work on the Jacobabad project has been completed. He urged Groarke to replicate the same programme in Johi, Mehra, KN Shah, Shahdadkot and Kambar Ali Khan, adding that the original project had also been approved for these five cities.

Shah also discussed the economic growth and agriculture project, which supports the development of livestock, vegetable and horticulture sectors in Sindh. The project is designed to increase exports by $265 million, raise income by 20% for 16,000 producers and create 30,000 jobs. He said this is the most important project and his government was giving special attention to its implementation.

The other project which came under discussion was the wind energy project, for which USAID has committed $43 million for the construction of transmission lines to connect wind projects to the national grid. Once completed, these transmission lines will have the capacity to benefit approximately 2.6 million people.

The other projects that came under discussion include education, health, scholarship programmes, the Jinnah Postgraduate Medical Centre and the Jacobabad Instiutute of Medical Sciences (JIMS).

Under the Sindh Basic Education Programme (SBEP), USAID is providing up to $155 million to increase and sustain student enrolment in schools across seven northern districts of Sindh and five districts of Karachi. Under SBEP about 100 news schools will be constructed and the reading skills of over 200,000 children will be improved. The programme will also address the issue of malnutrition.

Under the health sector projects, the Maternal and Child Health programme launched for $400 million in 2012 and supports reproductive health and family planning as well as innovative approaches to reducing maternal, newborn and child mortality and morbidity. Under the programme 21,596 people are being helped.

JIMS is a USAID-funded 133-bed hospital, which provides high quality medical services to more than one million people each year.

The chief minister also discussed the Youth Workforce Development Programme (YWDP) which is aimed at reducing the likelihood of extremism by building resilience and skills of young people and communities. In Karachi it has been launched for $7 million with the Amn Institute of Vocational Training. This is a three-year programme designed to provide training to 3,600 underprivileged youths.

Published in The Express Tribune, February 7th, 2017.