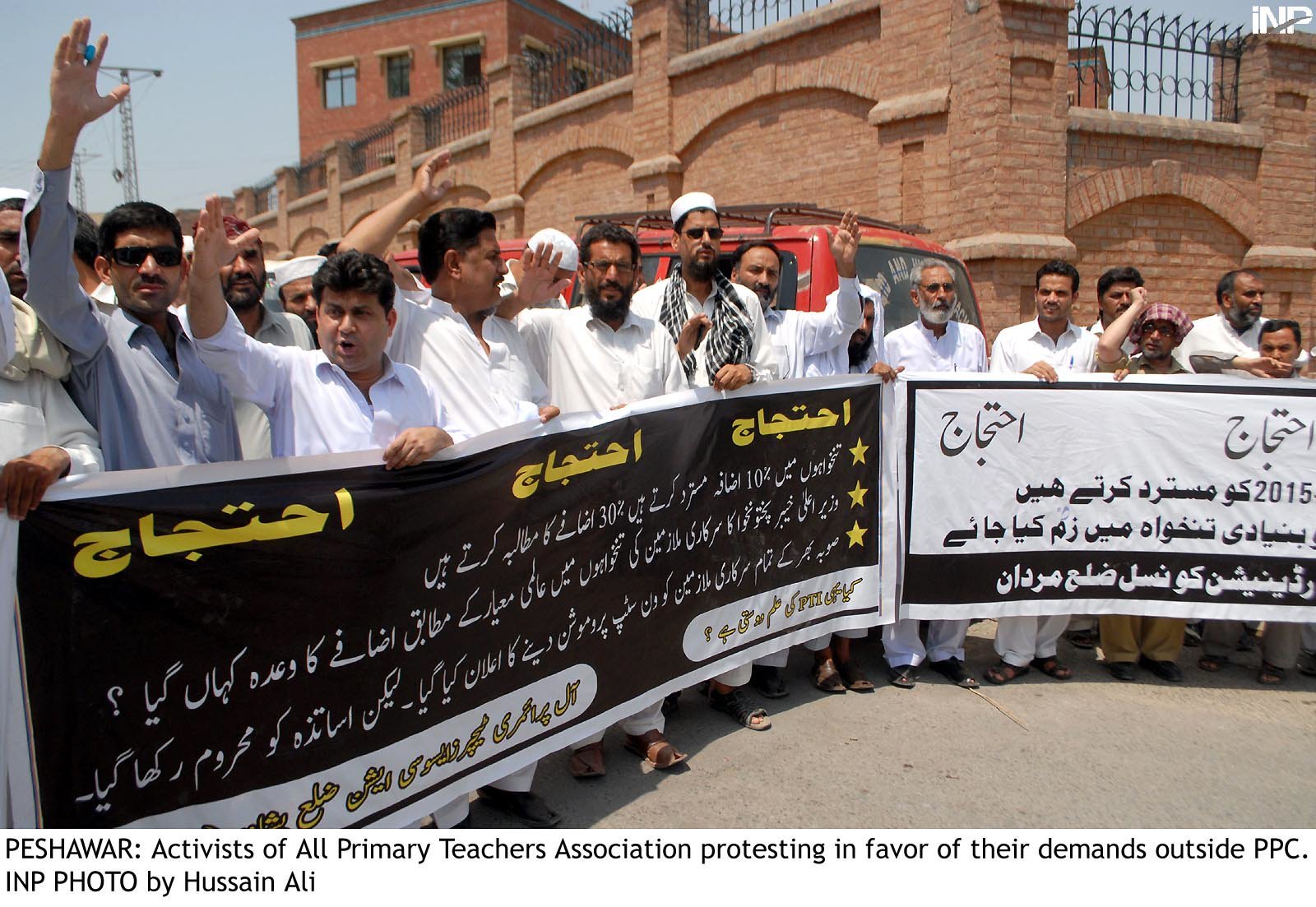 ---
SUKKUR: Hundreds of primary teachers are protesting in Sukkur against their transfers to far-flung rural areas by the administration.

Most Urdu speaking teachers have been transferred to primary schools in rural areas, with those retiring within the next six to eight months also included in the list. However, favourites of Zaibunnisa Mangi, the director of primary education, Sukkur, have been not transferred.

Hundreds of teachers belonging to the Primary Teachers Association (PTA) are protesting transfers to far-flung rural areas, which, according to them, is against the policy chalked out by the education secretary. The protesters chanted slogans against Mangi who is allegedly not transferring people she favours and has instead transferred 167 other teachers, a large number of whom are Urdu-speaking.

PTA general secretary Mohammad Ali Shaikh told The Express Tribune that around 96 male and 71 female teachers from different schools in Sukkur have been transferred to rural areas such as Bagarji, Ghumra, Azizabad, Arain, Patni, Sitamdaro and Salehpat. He said that according to the transfer policy chalked out by the education secretary, primary teachers should be transferred on a union council level, while junior school teachers should be transferred on a taluka level and high school teachers on a district level.

However, in violation of these orders, Mangi transferred 167 primary teachers to far-flung rural areas of New Sukkur, Rohri and Salehpat talukas. "We are not against the transfer because it is a part of our job but the criteria laid down by the high ups should be followed," he said.

"It is very disturbing that out of total 167 primary teachers, who have been posted at the rural primary schools, 70% are Urdu-speaking" he said.

PTA president Qurban Mangrio said more than 150 primary teachers appointed in 2001, 2008 and 2011 in New Sukkur and Rohri talukas through the National Testing Service, Institute of Business Administration and Sindh University are working at different schools of Sukkur. "If it was necessary to transfer the teachers from Sukkur to other rural areas, then those teachers should have been transferred because they were recruited on the rural quota," he explained, adding that instead of these teachers, others who were appointed on urban quota have been transferred.

There are many schools in the city where either the number of teachers is more than the required strength or less than the requirement, he added.

Giving an example of this, he said that Islamia Ghat Primary School, Sukkur and Qadria Primary School, Sukkur there are more teachers than students and most teachers are drawing salaries while doing no work. On the other hand, there are some schools like Gharibabad No-III and Barrage Colony Primary School, where teachers are badly needed but no teachers are being posted there, he said. According to him, junior teachers have been spared and senior teachers have been transferred and so much so that most senior teachers, who are going to retire within the next six to eight months, have been transferred.  Despite repeated attempts by The Express Tribune, Mangi was not available for her comments.

Published in The Express Tribune, February 7th, 2017.
COMMENTS
Comments are moderated and generally will be posted if they are on-topic and not abusive.
For more information, please see our Comments FAQ