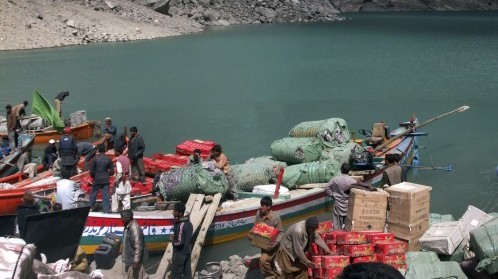 ---
GILGIT: Locals of Hunza have started migrating as the water level in the Hunza lake rises at an alarming rate, submerging homes along the water edge on Friday. Officials have asked for all schools to be closed in nearby villages as evacuation procedures are in effect.

The administration has given a deadline of May 15 warning that water could be released from the confines of the Hunza lake any time.

Sources inform that the lake is now at least 16 kilometres and the water level stands at 327 feet; increasing at an average of three feet per day. The water surging at the lake has inundated a major portion of Karakoram Highway, disrupting its link with other parts of the country.

At least 36 villages can be hit in case of spillover of the lake. 4,000 people have been air lifted to safer places with 300 houses being evcauted.

The army said on Thusrday that the artificial lake will not burst, owing to the creation of a spillway. Engineer-in-Chief Lieutenant General Shahid Niaz said the water would start draining into the completed spillway from May 20 to 30, well before the lake could ever burst its banks.


Local officials said possible disaster also threatens the popular tourist resort of Gulmit on the main Karakoram Highway linking Pakistan with China, part of which has already closed. They said 1,700 people have been forced to flee their homes after floods swept through Ayeenabad and Shishkat villages in the district of Hunza, wiping out dozens of houses. The trade route between Pakistan and China has been blocked due to the fact that 30 kilometer portion of the Karakoram Highway has been affected.

The inflow of water into the lake is 2000 cusec per day. Half of Gulmat and several houses in Sigat village have drowned. Experts have revealed the temperatures in the area have fallen down to freezing levels, while the Gulcun glacier could collapse as well which may cause a storm in the lake.

The health department has set up four emergency hospitals. Four months supplies including medical supplies have also been set aside.

A thousand para military and policemen have been alerted and nine relief camps have been set up for the affected people.

Boat services in Hunza lake have also been temporarily stopped. They have also installed warning sirens linked to a control room in Gilgit, the nearest large town.