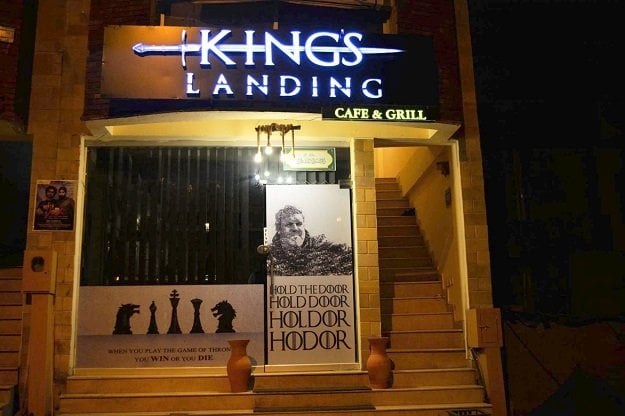 ---
Ever wondered what dining like the Lannisters would be like? People in Islamabad and Rawalpindi don't need to wonder, they can now experience it. A Game of Thrones-themed café named King's Landing Cafe & Grill opened in Phase 4, Bahria Town Islamabad recently.




The café is a brainchild of five young graduates – Qasim Ben Tariq, Ali Saif, Moiz Hashmi, Hammad Anwar and Arslan Sajid who graduated from FAST University with engineering degrees. Speaking to The Express Tribune, Tariq said they are a bunch of young playful students with a diverse skill set.




"The current job market for engineers is so disappointing that we were left with no choice but to put our creativity to good use. So we started our quest for an appropriate entrepreneurial venture and all options were put under consideration. After research, we identified that the formula for success is to provide the modern day consumers with a unique experience and memories associated with a product or service," he said.




Restaurant review: Ambrosia is a cut above the rest

Tariq also mentioned that they didn't want to open just another café and hence decided to explore the theme of Game of Thrones (GOT). "One of the biggest challenges was to coordinate scheduling and implementation of tasks assigned to local contractors in appropriate sequence and within designated time; our labour force has a tendency to not meet their deadlines. The entire GOT merchandise was ordered from international online retailers and sometimes the items delivered were not in the perfect condition," he shared.




Quality – 3/5

Without any surprise, the menu at King's Landing Cafe & Grill is specifically tailored according to the show. There are items named like Little Fingers, King of the Andals, Valar Spaghetti Pasta, Sand Snake Pasta, the Cheesy Khaleesi, the Red Keep, the Hound's Chicken and many others.




Calorie Court: Health Act gets approved

The Cheesy Khaleesi has butter-fried chicken topped with hard cheese and served alongside fries and coleslaw; this is a perfect snack for the evenings. The Taragoryen Chicken is one of their specialties, which is so delicious that it lives up to its reputation. It has grilled chicken topped with creamy tarragon sauce served with sautéed vegetables. The steaks are where this café needs to work. The Mexican steak we tried was absolutely bland but then again steaks are hard to perfect and this café focuses more on the experience and the ambiance.




An interesting feature at the café is the Mighty Mountain Challenge, which is named after the character of Gregor Clegane nicknamed The Mountain in the GOT series. Essentially, this is a giant beef burger and the challenge to finish it in a given time gets you an exclusive 50% discount on it. As an added benefit, the winner gets their name on the café's Hall of Fame wall and keep getting a 10% discount on all their future bills until someone else knocks their name off the list.




Considering this is a themed café and the owners have no experience in food, the quality is decent and the prices are very affordable. Most of the items are priced within Rs300-600 range keeping in mind the youth clientele of the café.




Review: Chop Chop Wok is all fired up

Atmosphere – 5/5

This is where the café wins all its points. As soon as you enter the café, you feel like you are exported to a different world altogether. The atmosphere and ambiance show that immense effort has been put in this café and it is rather inspiring to know that there are five young people behind it all.




While the front door indicates the GOT theme, it does not encapsulate all that is inside. A wooden staircase with GOT quotes painted on each step takes the visitors upstairs where they find themselves in a different world. A room of brick walls with posters of characters from GOT and a roof adorned with chandeliers made of thick ropes and bulbs welcome the diners. The lighting inside is dim and the walls are creepy just as per the theme.




The most interesting feature of the café is the throne from GOT. It's made to such perfection that one completely forgets that it's not real. Not only does it make the theme look much more real but is also a great prop to take photographs with. GOT swords are also available at the café to be used as props for pictures.




Kudos to the team for making the atmosphere as real to the show as possible.




Verdict – 3.5/5

If you're craving for the best tasting food, this might not be the perfect place to dine but if your soul is craving for an experience like no other, the King's Landing Café & Grill is like no other.


COMMENTS (4)
Comments are moderated and generally will be posted if they are on-topic and not abusive.
For more information, please see our Comments FAQ