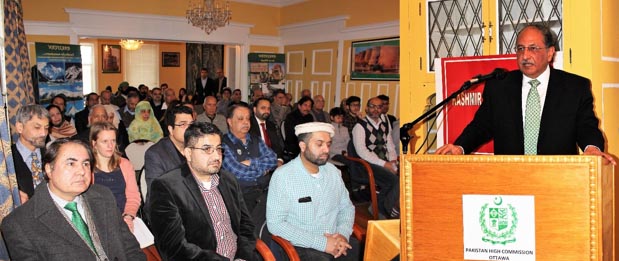 ---
Kashmir Solidarity Day was observed in Ottawa, Canada on Sunday to express solidarity with the people of Jammu and Kashmir.

A large number of members of Pakistani-Canadian and Kashmiri-Canadian communities and their Canadian friends participated in the event organised at the High Commission premises.

The special messages of President Mamnoon Hussain and Prime Minister Nawaz Sharif were read out during the event. The speakers highlighted various dimensions of the Jammu and Kashmir issue, including the legitimate struggle of the oppressed people for their right to self-determination and the gross human rights violations being committed by India in Occupied Jammu and Kashmir.

High Commissioner Tariq Azim Khan dilated upon the genesis of the Kashmir dispute and the recent spike of violence in the aftermath of martyrdom of social media activist Burhanuddin Wani in July 2016. The high commissioner paid tribute to valiant Kashmiris for their immense sacrifices. He stated that Pakistan would never relent in rendering its moral, political and diplomatic support to the people of Kashmir.

The high commissioner called upon the international community to be cognizant of its responsibilities on Kashmir dispute between Pakistan and India and urged it to demand an independent investigation into the ongoing gross human rights violations in Indian Occupied Kashmir and to fulfill its obligations under the relevant UN Security Council (UNSC) Resolutions on the Jammu & Kashmir dispute.

The high commissioner reiterated Pakistan's commitment towards a peaceful settlement of the Kashmir dispute with India in accordance with the relevant United Nation Security Council Resolutions and the aspirations of the people of Jammu and Kashmir.
COMMENTS
Comments are moderated and generally will be posted if they are on-topic and not abusive.
For more information, please see our Comments FAQ