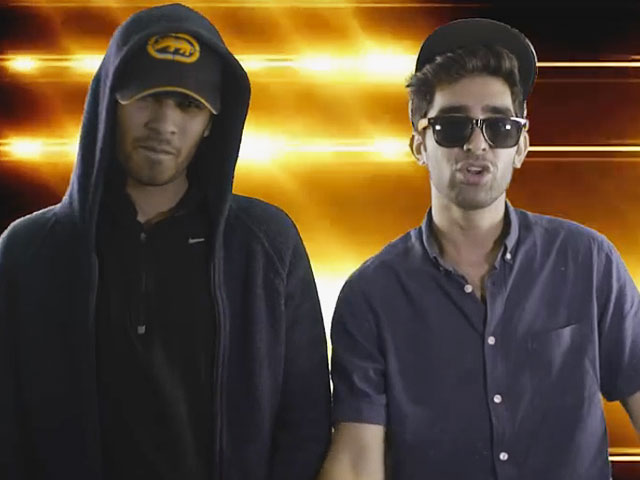 ---
KARACHI: The Waqar Zaka-Junaid Haider saga is the gift that keeps on giving. Just when the dueling pair finally made peace in a video posted on Zaka's official social media pages, a new song using the now infamous 'Boss! Me Ne Ap Ko Bola Kya Hai?' line has surfaced. And we have to admit, we have it on repeat.

Zaka's thrashing at the hands of Haider once again stirred debate over security guard culture in Pakistan and three boys from Engro decided to have their own take on it.

The song which has a similar feel and sound to Ali Gul Pir's debut single 'Waderai Ka Beta' -- a simple yet catchy beat and hilarious rap lyrics -- has already racked over 15,000 views in less than 24 hours.

Pak MMA offers to host Waqar Zaka's 'hair vs hair' match

Omar Yazdanie and Wali Sheikh came up with the idea to give their two cents about Zaka's latest rant. Speaking to The Express Tribune, Wali said, "We saw his videos over and over, and the kind of buzz he had, everywhere we went it was Waqar Zaka."

When asked whether he thinks the controversy was just another publicity stunt by Zaka, Wali replied, "Honestly, we don't know the whole story. I mean, who does? We just wanted to synthesize whatever we knew about it and show both sides of the story. I think it was legit, man. You can't fake that anger. And that fight. Any boy will tell you. It was real."

Watch Waqar Zaka ring in New Year with the people of Syria

Shedding light on the much talked about security guard culture, Wali added, "Nobody likes security guard culture. It's wasteful and takes a toll on the environment."

The song, Boss, hilariously takes a toll on the VIP culture. Produced by one of their friends, Taimoor Salahuddin, the video casts Ahmed Suleiman Ghaznavi and Amber Arifeen as well.

Watch the video here:



Have something to add in the story? Share it in the comments below. 
COMMENTS
Comments are moderated and generally will be posted if they are on-topic and not abusive.
For more information, please see our Comments FAQ