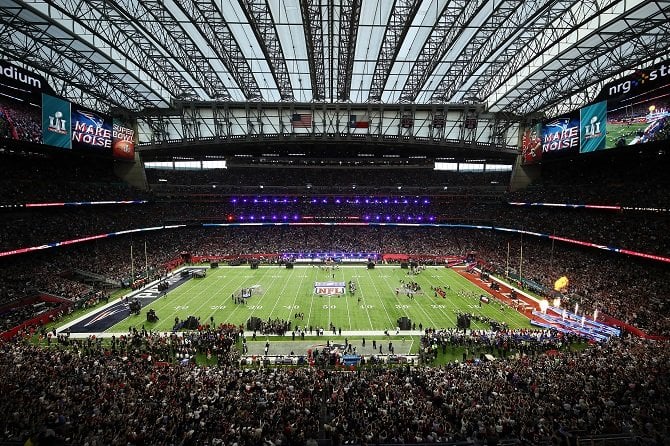 ---
WASHINGTON DC:
Home-sharing giant Airbnb injected a surprise political message during the Super Bowl with a television spot highlighting multi-culturalism and the hashtag #WeAccept.
While the American football championship normally frowns on overtly political ads, the subtle message from Airbnb came amid a heated debate following President Donald Trump's order to block the flow of immigrants and refugees into the United States.
The 30-second Airbnb spot shows a series of faces of people from different races, genders and ages with a running line of text saying "No matter who you are, where you're from, who you love or who you worship, we all belong."
US court rejects plea seeking immediate reinstatement of Trump travel ban
Acceptance starts with all of us. #weaccept pic.twitter.com/btgqyYHVTK

— Airbnb (@Airbnb) February 6, 2017
The ad was among several apparently promoting tolerance and multiculturalism at a time of deep political polarisation.
On Twitter, Airbnb founder and chief executive Brian Chesky also announced the group would donate $4 million over four years to the International Rescue Committee to assist refugees.
Airbnb's goal is to provide short term housing over the next five years for 100,000 people in need #weaccept

— Brian Chesky (@bchesky) February 6, 2017
We're also going to contribute $4M over 4 years to @theIRC to support critical needs of displaced populations globally #weaccept

— Brian Chesky (@bchesky) February 6, 2017
The ad, which was not revealed ahead of the game, prompted considerable reaction on Twitter.
I love how so many brands paid millions of dollars to spread love & acceptance tonight. #weaccept #Budweiser #84lumber

— Landon Perry (@landonjperry00) February 6, 2017



But another Twitter user responded:


https://twitter.com/vindugoel/status/828395521085624320


Trump's January 27 decree prohibits entry to all refugees, regardless of nationality, for 120 days, and bars Syrian refugees indefinitely.




Trump: US will win appeal of judge's travel ban order




It also suspends the issuance of visas for 90 days to migrants or visitors from seven mainly Muslim countries: Iran, Iraq, Libya, Somalia, Sudan, Syria and Yemen.




However the travel ban has been lifted temporarily following a federal district judge's order that it be suspended nationwide on Friday.





The ad was among several which aimed to deliver a message. A separate spot from the home improvement retailer 84 Lumber showed the journey of a mother and daughter who appeared to be traveling in the Mexican desert seeking to reach the United States, and invited viewers to watch the full ad online.
On YouTube, the five-minute film described as "too controversial for TV" showed the pair arriving at a large wall, unable to cross. At the end of the spot, viewers saw the message, "The will to succeed is always welcome here." The retailer had to revise its spot for television after it was rejected for being overtly political.
Our complete Super Bowl story. See a mother & daughter's symbolic journey toward becoming legal American citizens. https://t.co/AiI3MLrVd5

— 84 Lumber Company (@84LumberNews) February 6, 2017
The ad also sparked a range of social media reactions.
A powerful message from #84Lumber. America will always be a nation that opens its doors. That's who we are. https://t.co/poLqZI8Yj7

— Tom Perez (@TomPerez) February 6, 2017



While another commented:


https://twitter.com/yesnicksearcy/status/828434218967453696


College in Bosnia offers scholarships to people banned by Trump




The Super Bowl is the most watched US television event with more than 110 million viewers expected to tune in this year.
COMMENTS
Comments are moderated and generally will be posted if they are on-topic and not abusive.
For more information, please see our Comments FAQ