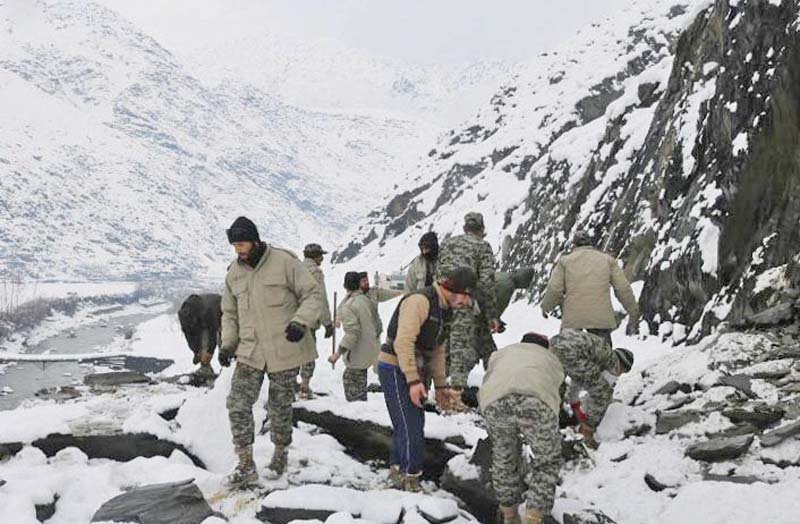 ---
CHITRAL: An avalanche set off by heavy snowfall slammed into the village of Shershal in Chitral district near Garam Chashma, killing nine people including four women and four children.

It hit eight homes at around 3:00 am, said Sheema Ayub Khan, a spokeswoman for the Provincial Disaster Management Authority in Khyber-Pakhtunkhwa.

The region has been hit by heavy snowfall that is four feet deep in some places. Six people trapped beneath the snow were rescued.

The locality comprised a total of 22 houses out of which families in 17 had already moved to safe places following PDMA's weather alert issued on February 1.

Shahab Hameed, a senior administration official in the area, confirmed the death toll, adding that most of the area's roads had been blocked.

20-year snowfall record smashed in Chitral

"We are trying to reopen the roads and help people," he said.

Nazim of the local village Muhammad Ali Hussain told The Express Tribune that owing to the road blockade residents were forced to take the injured on foot to the district headquarters hospital more than five miles away.

He said a few people were still stranded at the site and requested the provincial and federal government to provide them basic supplies to protect their families from harsh weather conditions.

On receipt of the news, K-P Chief Minister Pervez Khattak issued directions to the Secretary RRS Department Ahmad Hanif Orakzai and DG PDMA to immediately mount a rescue and relief operation in the stricken area.

The spokesperson added that NDMA agreed to provide a helicopter for the rescue and relief operation. It was further stated that relief items including 100 blankets, 50 quilts, two cartons of winter shawls, 50 coal stoves, 30 packets of flour and plastic mats had already been dispatched for the affected. In addition, four stretchers and medicines had also been sent.

Earlier a specialised search and rescue team consisting of Pakistan Army, Chitral Scouts, Police and local administration was deputed to carry out joint search and rescue.

A separate avalanche killed a Chitral scout at a border checkpoint in Chitral district, a military statement said, while six more soldiers were injured.

The injured were shifted to the DHQ through helicopter and were said to be out of danger.

The district administration has issued a red alert in the district as Chitral has witnessed a record snowfall of 5 feet 3.5 inches since the start of the year, triggering landslide and blanketing the district in a sea of white flakes.

Snow on the hill: Visitors flocking to Murree get trapped in traffic gridlock

Chitral district mayor Maghfirat Shah said the city's airport was shut because of the weather.

Another local official Muhammad Ilyas told AFP people in the worst-hit area were facing medicine and food shortages because of road closures and flight cancellations.

The region's electricity supply was also disrupted after the main transmission line was damaged.

Prime Minister Nawaz Sharif expressed his grief over the loss of lives in avalanche-related incident in Chitral.

He directed all relevant federal and provincial authorities to reach the site immediately and undertake rescue and relief work on priority, said a press release of the PM Office media wing.

The premier also directed National Disaster Management Authority (NDMA) to coordinate the rescue efforts and arrange necessary medical care, food and shelter required for the affected.

Separately, Chief Minister Khyber-Pakhtunkhwa Pervez Khattak expressed his grief over the loss of lives and properties and directed PDMA and all district administrations to immediately provide relief goods and compensation to the affected families.

PDMA control room is operational 24/7 and is in contact with all districts. People from each affected district can contact PDMA control room on 1700 or 0919223662 for any guidance.

Chaghi district

The Frontier Corps Balochistan successfully rescued 108 stranded travellers from a remote location in Chaghi district of Balochistan.

According to an update on relief and rescue operations in different parts of the country following heavy snowfall and rainfall issued by Inter Services Public Relations, the FC Balochistan in collaboration with Provincial Disaster Management Authority (PDMA) have completed relief and rescue operation in Chaghi whereby 108 travellers stranded in the remote location have been transported to a hospital in Naushki for medical aid. (With Additional Input From Agencies)

Published in The Express Tribune, February 6th, 2017.

 

 
COMMENTS
Comments are moderated and generally will be posted if they are on-topic and not abusive.
For more information, please see our Comments FAQ