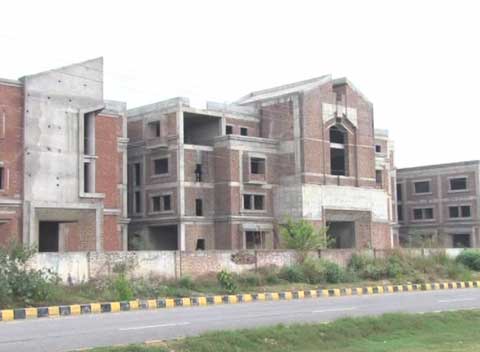 ---
LAHORE: About 12 years ago, the then Punjab chief minister laid the foundation stone of the Fatima Jinnah Institute of Dental Sciences. The complex, whose foundation stone was laid on July 31, 2005 and was scheduled to be functional by 2009, still stands unfinished.

The fate of the 'state-of-the-art' dental college – a brainchild of Chaudhry Pervaiz Elahi – remained undecided until recently when the authorities decided to merge the institution with either the Ameeruddin Medical College or the Allama Iqbal Medical College's dental section.

Once complete, the institution's infrastructure spread over 100 kanals in Lahore's Jubilee Town will house a teaching college, postgraduate training and research centre, a teaching hospital, separate hostels for boys and girls and residence facility for the staff.

Medical malpractices : SC seeks report on blood bags theft in Polyclinic

The educational facility was supposed to be the first dental college and teaching hospital to offer dental healthcare facilities at par with international standards.

Punjab Health Minister Khawaja Salman Rafique told The Express Tribune the chief minister along with the health secretary and department officials paid a visit to the site and called for starting the college as soon as possible.

The minister was, however, reluctant to give a tentative date of the start of operations.

"We have held several meetings with the medical superintendents of Ameeruddin Medical College and Allama Iqbal Medical College," he said. "The exact time of its inauguration would be made public after consultations of all other stakeholders."

Salman added that it would be beneficial for dental students and patients that Ameeruddin Medical College could be merged with such a large facility.

Political tussles

The 12-year delay in starting the dental college reflects the government's tussle with the then government led by Pakistan Muslim League-Quaid, most senior doctors in Lahore believe.

No arrests: No leads in stents scam

Several other healthcare projects completed by the Punjab government led by the Chaudhrys of Gujrat – Chaudhry Shujaat Hussain and his cousin Pervaiz Elahi under Pervez Musharraf – are on hold across the province.

An official requesting anonymity said millions of rupees were spent on building the project but dental students were still getting education elsewhere and facing immense difficulties. "The Fatima Jinnah Institute of Dental Sciences also raises questions about the efficiency of the Punjab government," he said.

Only one public hospital, the Punjab Dental College, caters to hundreds of thousands of patients of the entire province. "Making this facility functional is inevitable," the officer said.

Published in The Express Tribune, February 6th, 2017.