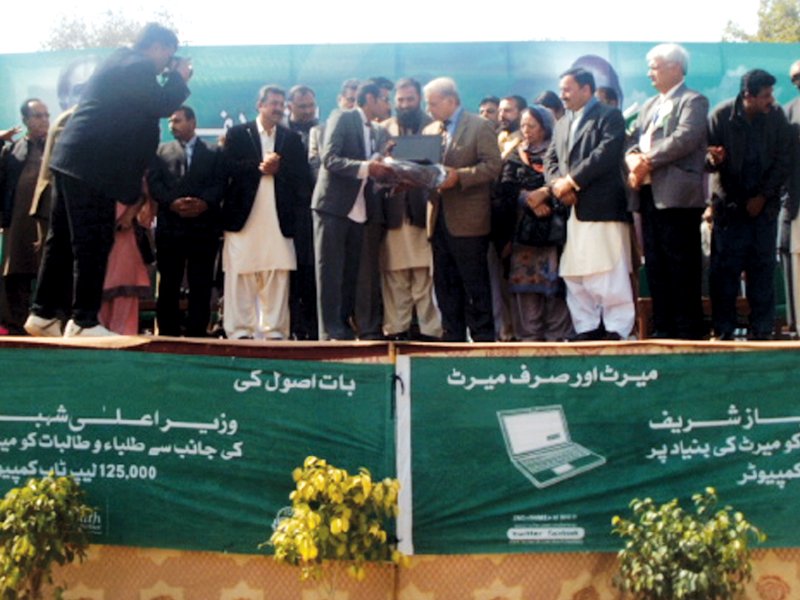 ---
LAHORE: The Punjab government is planning to give away an additional 100,000 laptops to students of higher education institutions (HEIs) based on their academic performance in the current fiscal year.

According to documents available with The Express Tribune, the provincial government will spend up to Rs9.145 billion for the provision of laptops to students in the fiscal year of 2016-17, of which Rs4 billion had been allocated in the budget of 2016-17.

The laptops will be provided under the chief minister's E-Youth Initiative and students will also be provided internet facility along with the laptops. Each laptop will be purchased at an estimated cost of Rs68,000, while Rs7,350 will be the cost of purchased software, bringing the total cost of the laptops to Rs75,350 each. The documents estimate the project would be implemented before June 2017.




Under the programme, laptops will be provided to students of public-sector educational institutions in Punjab and high-achievers of the boards of intermediate & secondary education across the province.  Students of seminaries will also be provided laptops as part of the scheme.

The educational institutions will be responsible for providing the HED with the list of students as per the criteria. While a project steering committee will be responsible for finalising the lists.

The Punjab Higher Education Department (HED) has been tasked with sponsoring and executing the project and delivering the laptops on merit to public educational institutions in Punjab. The department will also be responsible for the procurement of laptops under the Punjab Procurement Rules 2014.

The specifications for the laptops would be developed by the Punjab Information Technology Board (PITB) and would be approved by the Project Steering Committee.

The documents revealed that the Punjab government had already provided 310,000 laptops to students along with internet connectivity at their respective educational institutes during the 2011-12, 2012-13 and 2013-14 financial years.

The document stated the purpose of providing laptops is part of the government's move for digitisation and boost students' morale. Furthermore, the move was part of the ICT in Education Master Plan developed in 2007 which defined strategies to use technology and expand educational opportunities, improve student learning, and develop capacity at all levels.

Published in The Express Tribune, February 6th, 2017.

 
COMMENTS
Comments are moderated and generally will be posted if they are on-topic and not abusive.
For more information, please see our Comments FAQ