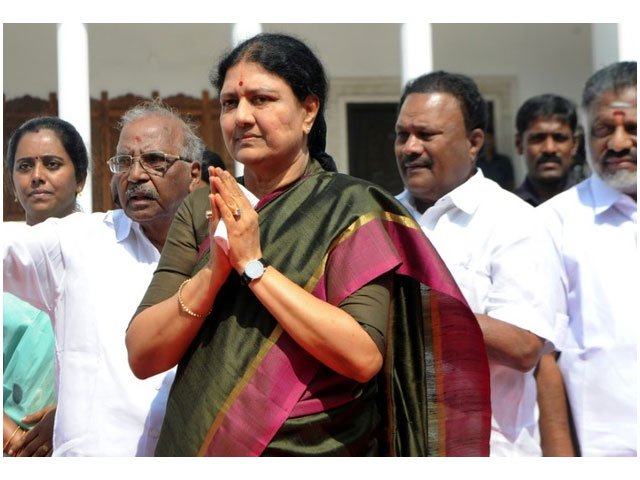 ---
CHENNAI, INDIA: A former video cassette seller with close ties to Tamil Nadu's late leader will become the next chief minister of the Indian state, capping a remarkable rise for the political novice.

The ruling party in the southern state of Tamil Nadu announced Sunday that VK Sasikala would become the next leader following the resignation of the acting chief minister.

Her rise to the top office had been rumoured since December, when beloved leader Jayalalithaa Jayaram died at the age of 68, plunging the state into political uncertainty.

Sasikala -- a close confidante of Jayalalithaa but with no previous record of public office -- was soon afterwards elevated to head the ruling All India Anna Dravida Munnetra Kazhagam (AIADMK) party, paving the way to the top job.

India party picks new chief after Jayalalithaa's death

"She is the next chief minister of Tamil Nadu. Like Amma, we wanted a strong woman leader to serve the people," party spokesperson C R Saraswathi told AFP, referring to Jayalalithaa by her popular nickname.

"O Panneerselvam has stepped down from the chief minister's post and he will continue to work for the party."

Panneerselvam had been filling in as chief minister since October when former film star Jayalalithaa was hospitalised.

The date of Sasikala's swearing-in and other formalities will be announced soon.

Although Sasikala had never held any official position in the AIADMK or the state government before her election, she has long been known as "Chinnamma" (aunt) to the party because of her friendship with Jayalalithaa.

The two met in the 1980s when Sasikala was running a video parlour and Jayalalithaa was a budding politician.

Why India's poor are devoted to 'god-like' leaders

It marked the beginning of a decades-long friendship dogged by corruption scandals and intermittent spells of bad blood. In 2014 both were jailed for four years for corruption but were later acquitted.

The death of Jayalalithaa on December 5 sparked a mass outpouring of grief across Tamil Nadu, with huge crowds lining the streets to pay tribute to her coffin.

Unlike Jayalalithaa, a three-time chief minister who inspired a devotion that verged on the religious, Sasikala lacks popular support in Tamil Nadu and critics say she has yet to prove her mettle.