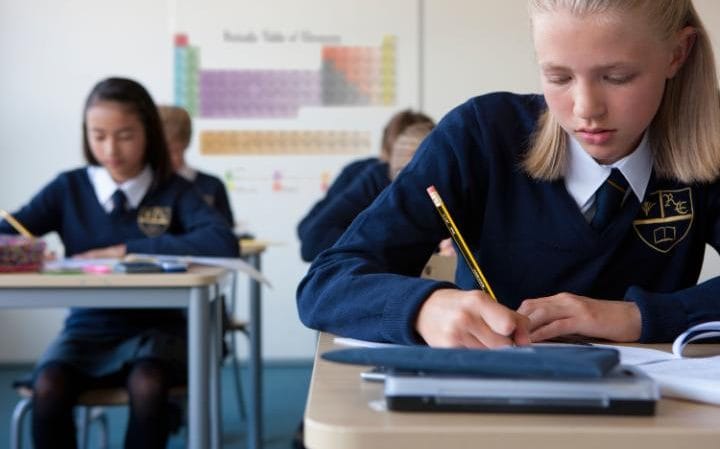 ---
In a surprising move, a school in Sweden adopted segregation in classes in a bid to help students who are too shy to talk in front of the opposite sex. The move has challenged a decades-old tradition of Swedish educational system.

The school informed the concerned  parents that for the next six weeks, pupils ages between 15 and 16 would be divided into "a class consisting of girls and a class consisting of boys" for all subjects except Science.

LHC stays govt order to deport Pak-Turk school staff

When grade nine students at Adolfsberg School in Orebro returned to school after Christmas holidays, they were startled to see their classes had changed. "People are not happy. I haven't heard anyone who likes it. I've only heard bad reactions," Beate Eideholt, 15, told The Daily Telegraph.

Defending the school's decision, Headmistress Anneli Widestrand emphasised that since the students were divided for only six weeks, it would be wrong to call the single sex group as segregated classes. Adding that the change was a one-off intervention to "strengthen knowledge development" among certain pupils, the Telegraph reported.

Talking to local Nerikes Allehanda newspaper, Widesstrand said: "It's a good way to break the pattern, to reach students." Adding that her "experience as a teacher had taught her that some girl pupils did not dare to speak or break negative behaviour patterns when surrounded by boys."

The students, however, remained unconvinced. "I would never want to be in an all-girl school, and even if I wanted to I couldn't because they closed them in 1974 when they realised it was weird separating girls and boys," Ms Eideholt said, adding,"Maybe we have some people in our class who are transsexual or have non-binary gender. It would be a problem for them because then they wouldn't feel they fit in."

From private to public: 34,000 students make transition to government schools

"If they've had problems, this is a stupid way to handle it. It's so old-fashioned," said her father, Anders Eideholt. An architect by profession, Ejdeholt criticised the school for not discussing the move with parents before its implementation.

According to Mia Heikkila, an expert in gender and education at Sweden's Malardalen University, the head's intervention might be justified if was intended to help stop students falling into self-limiting gender roles.

Last year, Sweden's schools inspectorate faced a similar backlash when it ruled that an Islamic school had the right to segregate girls and boys from gym classes. The country 's last all-girls school closure dates back to 1974.

This article originally appeared on The Telegraph. 
COMMENTS (1)
Comments are moderated and generally will be posted if they are on-topic and not abusive.
For more information, please see our Comments FAQ