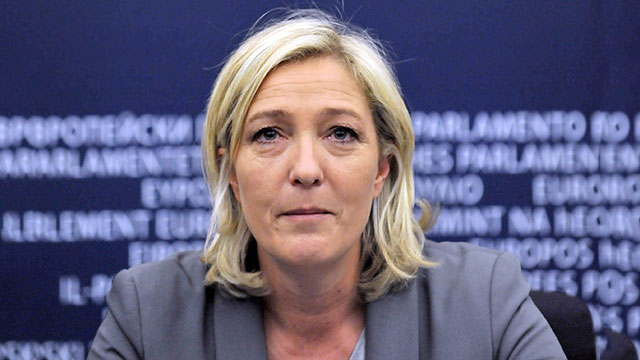 ---
LYON: France's far-right leader Marine Le Pen launched her presidential campaign on Saturday, hoping her anti-establishment message will carry her to power later this year.

Le Pen published a list of 144 "commitments" to the nation, which include pulling France out of the eurozone, imposing higher taxes on the employment contracts of foreign workers and freeing small firms from red tape.

France's Le Pen says would seek Trump-style repatriation of car plants

The 48-year-old leader of the National Front (FN) favours an overhauled European Union without a single currency.

But she says in her "commitments", published in a pamphlet and on her website, that if France's European partners refuse to agree, she will hold a referendum soon after taking power on whether France should remain in the bloc.

Le Pen will make a major speech in the central city of Lyon on Sunday, with polls currently showing she would score the highest of any candidate in the first round of the presidential election on April 23.

However, polls also show she would be beaten in the May 7 runoff, possibly by centrist former banker Emmanuel Macron who has benefited from claims that conservative candidate Francois Fillon arranged high-paying parliamentary jobs for his wife and children.

"On paper, Macron has the strongest chance of winning," one of Le Pen's advisors conceded on Saturday, speaking on condition of anonymity.

In the wake of the attack on a soldier near the Louvre museum in Paris on Friday that has re-awakened security fears in France, Le Pen also promises to "massively" arm the police while eradicating weapons in the troubled suburbs of French cities.

Rejecting the mainstream 

The referendum on EU membership would enable France to "take back" control over its monetary and economic policy, she says, although she gives little detail.

Le Pen hopes to capitalise on the same rejection of mainstream politics that helped the Brexit camp win in Britain and swept Donald Trump to the US presidency.

Le Pen follows Trump's lead on social media bombardment

She has worked to rid the FN of its more extremist, anti-Semitic fringe since taking over from her father Jean-Marie Le Pen, who has repeatedly referred to the Nazi gas chambers as a "detail" of history.

Her conservative rival Fillon had been the long-time frontrunner in the presidential race but he has lost support since allegations emerged that his wife Penelope earned more than 800,000 euros ($860,000) as a parliamentary aide without apparently ever working in the National Assembly building.

His children are said to have earned an additional 84,000 euros working as parliamentary aides.

Florian Philippot, one of the FN's vice presidents, called Friday for Fillon to withdraw from the presidential race.
COMMENTS
Comments are moderated and generally will be posted if they are on-topic and not abusive.
For more information, please see our Comments FAQ