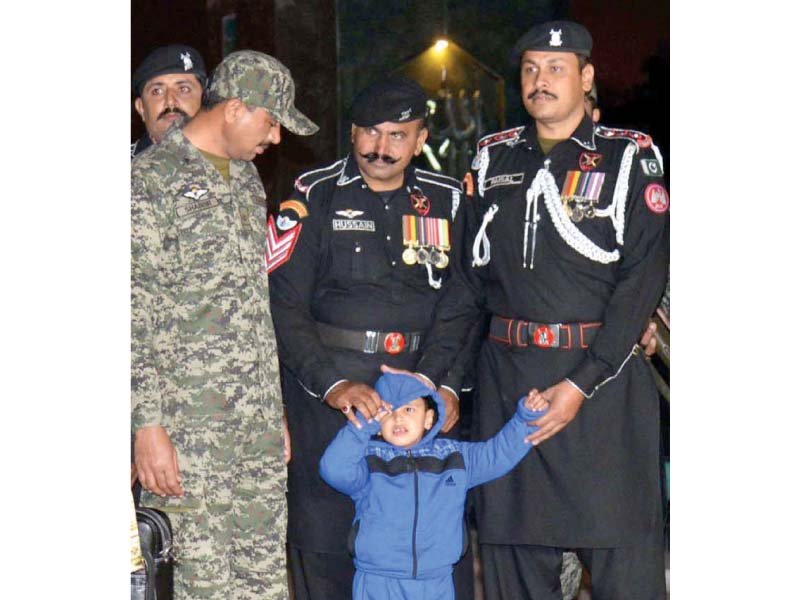 ---
LAHORE: A woman was reunited with her child at the Wagah border on Saturday -- almost a year after his step- father surreptitiously took him to Indian-occupied Kashmir.

On March 12, 2016, Gulzar took his step-son Iftikhar to Ganderbal district in Jammu and Kashmir after telling his wife , Rubina Kanwal, that he was going to attend a wedding.

Militants kidnap six Pakistani workers of Polish oil company in DI Khan

After the abduction, Kanwal filed a petition in an Indian high court, where the Pakistan High Commissioner to India Abdul Basit proved that the child was a Pakistani national. The court issued a verdict for handing over the child to his mother in May 2016.

Compliance with the Indian high court's orders took over nine months due to India-Pakistan border tensions and the lengthy clerical procedure involved for handing over a person to Pakistan.

On Saturday evening, Iftikhar was finally reunited with her mother and other relatives, who were present at the Wagah border to receive him. Kanwal broke into tears when she caught sight of her son.

Don't kidnap me. I'm not a liberal

She thanked High Commissioner Basit and rights worker Ansar Burney for their special efforts in uniting a son to his mother.

Basit said bringing the child back was a difficult task because he was in occupied Kashmir.  "Besides cooperation from the Indian side, we were also offered help by some of our Kashmiri brothers. We hope that the cases of all other Pakistanis languishing in Indian jails see a breakthrough," he added.

He also tweeted, thanking the Indian authorities for their cooperation.


We are thankful to Indian authorities for their cooperation in this humanitarian matter https://t.co/BGtmc2e4a4

— Abdul Basit (@abasitpak1) February 4, 2017
Published in The Express Tribune, February 5th, 2017.
COMMENTS (1)
Comments are moderated and generally will be posted if they are on-topic and not abusive.
For more information, please see our Comments FAQ