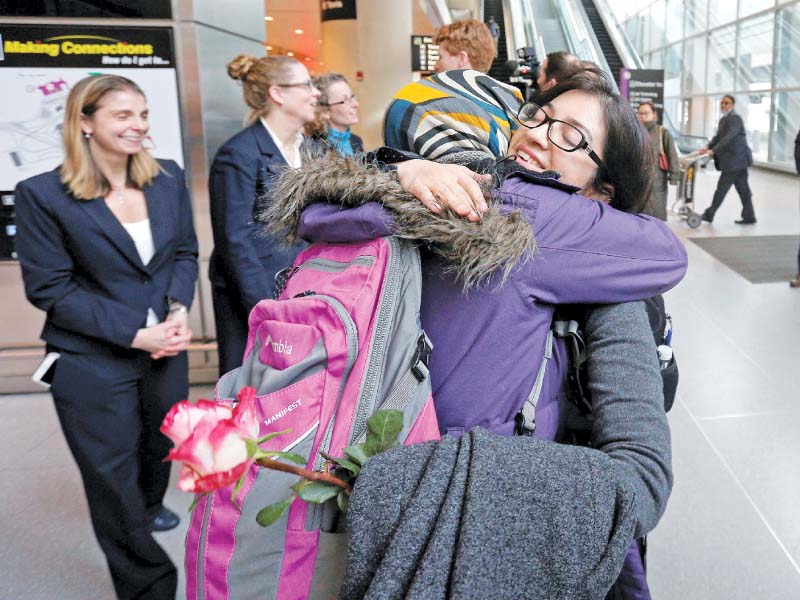 ---
WASHINGTON: A Seattle federal judge on Saturday put a nationwide block on US President Donald Trump's week-old executive order that had temporarily barred refugees and nationals from seven countries from entering the United States.

The ruling by Judge James Robart, a George W Bush appointee, represents a major setback for Trump's ban on travellers from Iran, Iraq, Libya, Somalia, Sudan, Syria and Yemen.

Trump himself denounced the judge, vowing that his government would reinstate it as affected travellers scrambled for tickets to try to quickly enter the United States.

"The opinion of this so-called judge, which essentially takes law enforcement away from our country, is ridiculous and will be overturned!" Trump said on Twitter. It is unusual for a president to attack a member of the judiciary, which is an independent arm of the US government. "When a country is no longer able to say who can, and who cannot, come in and out, especially for reasons of safety and security – big trouble!" he tweeted.

The Department of Homeland Security (DHS) said on Saturday it would return to its normal procedures for screening travellers but that the Trump administration would fight to overturn Friday's ruling. "At the earliest possible time, the Department of Justice intends to file an emergency stay of this order and defend the president's executive order, which is lawful and appropriate," DHS spokeswoman Gillian Christensen said a statement.

While a number of lawsuits have been filed over Trump's action, the Washington state lawsuit was the first to test the broad constitutionality of the executive order.  Judge Robart explicitly made his ruling apply across the country, while other judges facing similar cases have so far issued orders concerning only specific individuals.

The challenge in Seattle was brought by the state of Washington and later joined by the state of Minnesota. The judge ruled that the states have legal standing to sue, which could help Democratic attorneys general take on Trump in court on issues beyond immigration.

Washington's case was based on claims that the state had suffered harm from the travel ban, for example students and faculty at state-funded universities being stranded overseas.

Amazon.com and Expedia, both based in Washington state, had supported the lawsuit, asserting that the travel restrictions harmed their businesses. Tech companies, which rely on talent from around the world, have been increasingly outspoken in their opposition to the Trump administration's anti-immigrant policies.

Judge Robart probed a Justice Department lawyer on what he called the 'litany of harms' suffered by Washington state's universities, and also questioned the administration's use of the September 11, 2001, attacks on the United States as a justification for the ban.

Robart said no attacks had been carried out on US soil by individuals from the seven countries affected by the travel ban since that assault. For Trump's order to be constitutional, Robart said, it had to be "based in fact, as opposed to fiction."

Because of the temporary restraining order, the US government said travelers with valid visas would be allowed to enter the country. The State Department said almost 60,000 visas had been suspended because of Trump's ban.

The order had set off chaos and moved thousands of people to protest at airports across the United States last week.

"I am very happy that we are going to travel today. Finally, we made it," said Fuad Sharef, an Iraqi with an immigration visa who was prevented from boarding a flight to New York last week. "I didn't surrender and I fought for my right and other people's right," Sharef told Reuters as he and his family prepared to fly from Erbil, the capital of the Kurdish region of northern Iraq, to Istanbul and then to New York, before starting a new life in Nashville, Tennessee.

Virtually all refugees also were barred, upending the lives of thousands of people who had spent years seeking asylum in the United States.

On Saturday, a small group of immigration lawyers, some holding signs in English and Arabic, gathered at New York's John F Kennedy International Airport, offering services to passengers arriving from overseas destinations.

"This is an instance where people could really slip through the cracks and get detained and nobody would know," said John Biancamano, 35, an attorney volunteering his services. At Dulles International Airport outside Washington, volunteer lawyers also were in place to help travelers and monitor how visa holders and permanent residents were being treated as they arrived.

Some travelers told Reuters they were cautious about the sudden change. Overnight, some international airlines were uncertain about whether they could sell tickets to travelers from the countries in Trump's ban.

"I will not say if I have hope or not. I wait, watch and then I build my hopes," said Josephine Abu Assaleh, who was stopped from entering the United States after landing in Philadelphia last week with five members of her family.

Abu Assaleh, 60, and her family were granted US visas in 2016, some 13 years after they initially made their applications. "We left the matter with the lawyers. When they tell us the decision has been canceled, we will decide whether to go back or not," she told Reuters in Damascus, speaking by telephone

Trump's order also put a 120-day halt on the US refugee admission program and barred Syrian refugees indefinitely. With Friday night's restraining order on the ban, refugees who have been cleared can now board planes.

Iraqi refugee Nizar al-Qassab, 52, told Reuters in Lebanon: "If it really has been frozen, I thank God, because my wife and children should have been in America by now." He said his family had been due to travel to the United States for resettlement on January 31. The trip was canceled two days before that and he was now waiting for a phone call from UN officials overseeing their case. "It's in God's hands," he said.

Published in The Express Tribune, February 5th, 2017.
COMMENTS
Comments are moderated and generally will be posted if they are on-topic and not abusive.
For more information, please see our Comments FAQ