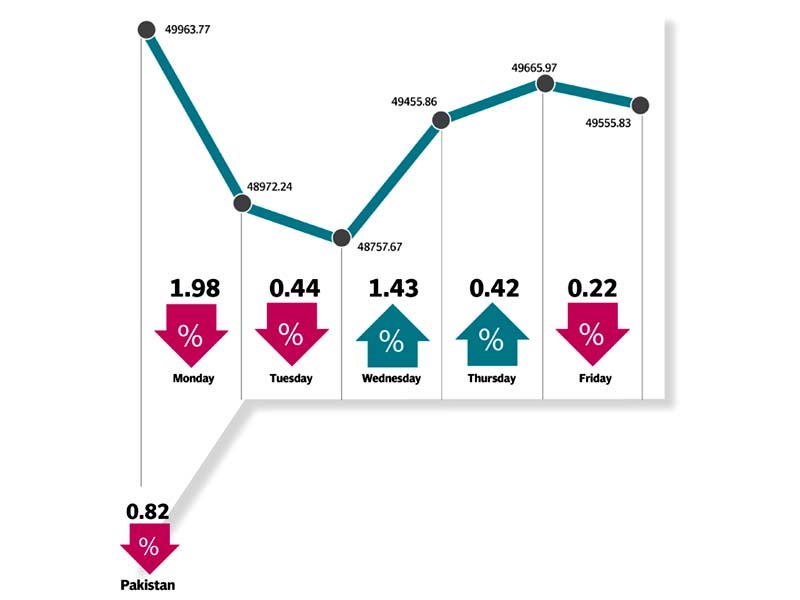 ---
KARACHI: It was a volatile week at the bourse as stocks took a beating early on and with little recovery the benchmark-100 index edged down 0.8% to end at 49,556 points.

Steep correction at the start was instigated by reports over aggressive action by the Securities and Exchange Commission of Pakistan (SECP) against brokers over compliance issues.

Stocks succumbed to selling pressure as the US imposed travel bans on seven Muslim nations with hints of extending it to Pakistan, and the SECP issuing notices to brokers regarding in-house financing.

However, the index staged a mid-week recovery amid news of Panama case hearing being adjourned due to the judge's ailment; albeit closing the week down 0.8%.

After witnessing a correction of nearly 1,000 points in the first session of the week, some support was provided by the mainboards.

With Brent oil surging 2.8% week-on-week, oil and gas sector remained in the limelight.

Oil and Gas Development Company came out as the star performer as increase in oil prices was complemented by news of government postponing its plan to divest its stake in the company. The State Bank of Pakistan (SBP), as expected, maintained status quo in the monetary policy meeting.

Overall, selective buying was witnessed by the investors.

In the fertiliser sector, both Fauji Fertilizer Bin Qasim and Fauji Fertilizer Company posted above expected results for CY16 results which lead to some positive activity in the stocks.

Similarly International Steels Limited announced another capacity expansion which would allow the company to have a total CRC capacity of around 1 million tons, after which the scrip closed last three sessions on the upper circuit.

Additionally, Engro Foods announced a surprise dividend of Rs10/sh, along with earnings per share of 3.11, citing the reason of maintaining company's long term target capital structure.

Average volume traded decreased massively by 29.4% week-on-week while average value traded decreased by 20% week-on-week.

Foreigners remained net sellers during the outgoing week as well, selling $15.31 million worth of shares, up 12% week-on-week.

Winners of the week

International Steels Limited




International Steels Ltd manufactures steel. The company produces cold rolled sheet, and hot dipped galvanised sheet steels. International Steels serves the construction, appliances, automotive, agricultural implements, and packaging industries.

Colgate Palmolive




Colgate-Palmolive Pakistan Limited manufactures and sells detergents, personal hygiene, and a variety of other products.

Pakistan Tobacco Company




Pakistan Tobacco Company Limited manufactures and sells cigarettes.

Losers of the week

Ferozesons Laboratories




Ferozesons Laboratories Limited manufactures and sells pharmaceuticals products.

Shifa Int Hospitals Ltd




Shifa International Hospitals Limited establishes and runs medical centres and hospitals in Pakistan. The company's clinical services include medicines, paediatrics, surgical, obstetric and gynaecology, dentistry, rehabilitation services and ophthalmology.

Orix Leasing




Orix Leasing Pakistan Limited is a leasing and diversified financial services company. The company offers full pay out finance leases for machinery, office automation, computers, vessels, aircraft and automobiles. Orix financial service products include loans, rentals, security brokerage, options trading and life insurance products.

Published in The Express Tribune, February 5th, 2017.

Like Business on Facebook, follow @TribuneBiz on Twitter to stay informed and join in the conversation.
COMMENTS
Comments are moderated and generally will be posted if they are on-topic and not abusive.
For more information, please see our Comments FAQ