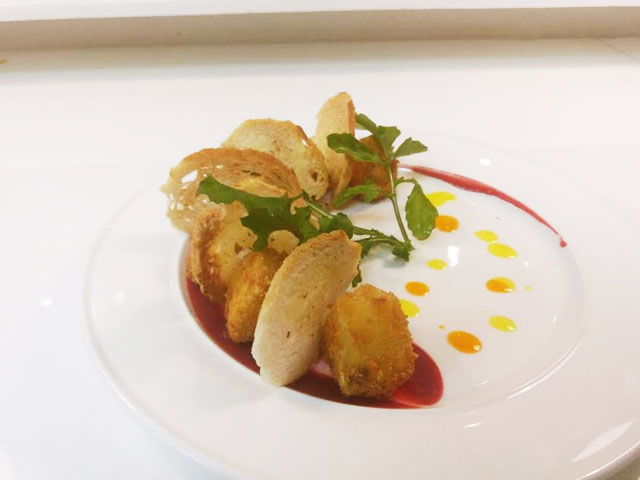 ---
KARACHI: Speaking of elevating the humble chicken bake, measly fish and derisory shrimps from mass-produced everyday pleasures to stately relishes ­— I suspect the answer rests at House number 76, Clifton. Whether you're a ravenous food enthusiast or a savoir-faire fitness fanatic like myself, there's something delish for just about everyone at this new, state-of-the-art joint.




Calorie Court: Health Act gets approved

No less than a food sanctuary, Ambrosia not just entices the sensory nerve-endings on your palate but feeds your visionary spirits. Boasting bamboo glazed walls and trees lit-up with quixotic lanterns, the expansive garden vaunts ample space between tables — something that's pretty scarce in Karachi eateries. And if the winter chill gets to you, worry not because Ambrosia comprises a warm and equally cosy indoors space. Visualise that the equivalent of a decadent vacay to the Italian Peninsula somehow manages to import a truckload of delicacies, teamed with a scenic view; divine, isn't it?




For someone who is fussy-and-a-half about her fish and shellfish, Ambrosia didn't disappoint. Be it the crab claws I devoured in a jiffy to the chunky tiger tempura prawns, quality surely was on point. The beef Carpaccio, a simple yet oh-so-tricky food item swanked impeccable taste; the capers and sundried tomatoes drizzled on top were as garden-fresh as food can get. The side of rice served with the chicken also bragged utter fineness.




The scrummy molten chocolate lava cake is probably one I'd compare to the one I chowed down at St Tropez, South of France, on one of my getaways. The deconstructed lemon tart with fruit coulis was another lip-snacking addition to the menu. One wouldn't mind paying a little bit of extra for ingredients this palatable, but in my opinion the prices won't break your bank, if you know what I mean.

Presentation: 4/5




Forget your Instagram feed brimming with photos of flaky quiche, mizzled with olive oil on a brittle crust. A foodie's mouth will gape at the sight of 'The Spicy Cigar' appetiser that's stuffed in filo pastry, served with plush chipotle cream, and oh the luscious 'Moroccan chicken', bridled under a lavish thick sauce, coveted with a vivid-crimson beetroot puree that leave you lusting for more. Also, let's not forget the nasty-in-a-good-way deep-fried Camembert cheese bites that ooze out like a hot spring. You have no choice left — but to dig in of course!

Review: Chop Chop Wok is all fired up

Atmosphere: 4.5/5




One feature that makes Ambrosia a cut above the rest is the ambience. The lush garden that permeates the attar of nature is nothing short of welcoming. The privacy that the sprawling space provides is unquestionably what makes the dining experience all the more snug and engaging. The subtle lighting and the majestically glowing trees teamed with admirable service, courtesy of a cluster of servers floating around (sans the needless interruptions while you're nibbling) leaves you yearning for this food temple when you leave!

Rating: 4.5 out of 5 stars

Verdict: In a nut shell, Ambrosia is a must-go kind of deal.

Have something to add to this story? Share it in the comments below. 
COMMENTS (2)
Comments are moderated and generally will be posted if they are on-topic and not abusive.
For more information, please see our Comments FAQ