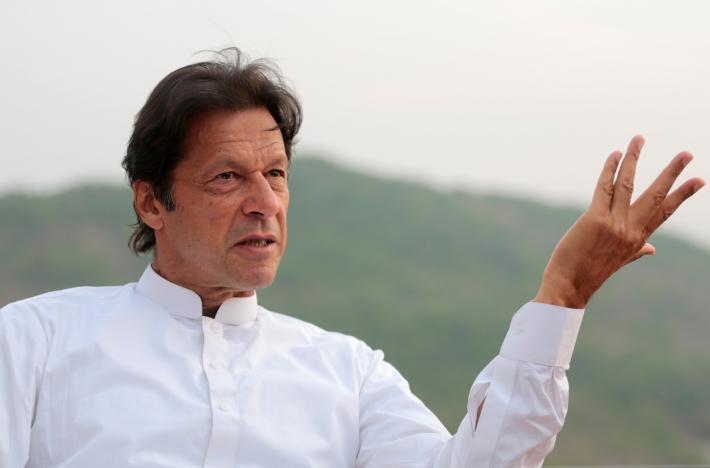 ---
PESHAWAR: Laying stress on raising voice for the underprivileged, Pakistan Tehreek-e-Insaf (PTI) chief Imran Khan has termed a class-based educational, health and justice system the biggest problem the country is confronted with.

"Nations never grow until and unless society stands for the underprivileged, and the poor and rich are offered similar learning and health facilities," Imran Khan said. He was addressing a conference arranged by the Gynecology Association of Pakistan in Peshawar on Friday

I pray Trump stops giving visas to Pakistanis: Imran

The PTI chairman said the health insurance cards, provided to 51% of the Khyber Pakhtunkhwa (K-P) residents, were meant to offer free healthcare services to the underprivileged people, adding that the government would try to expand the programme to every single K-P citizen.

Imran said the provincial government allocated a huge chunk of its total budget for health and education. He lauded the K-P government for offering incentives to doctors performing their duties at the peripheries.




Earlier K-P Chief Minister Pervez Khattak said people responded to the PTI's slogan of change as they were fed up with the corrupt system, adding that in the past none of the government departments delivered and earlier nothing was possible without paying bribe.

"Countries cannot be run like this as corruption leads to destruction," Khattak said, adding that people could now question the government which was not possible in the past.

"In the developed countries, people were fortunate to have honest leaders. These leaders started work on developing their countries and they delivered," Khattak said. "We cannot progress even after one thousand years until and unless departments are depoliticised and transparency is ensured."

Pakistan belongs to Imran Khan

He said the K-P government gave autonomy to almost every department but still people took to the streets. "I wonder why on earth someone would take to the streets after having complete autonomy on financial, decision-making and administrative affairs," Khattak said.

The CM also announced that a 500-bed gyne/obstetrics facility will be established in the province. Budget for the facility will be allocated during annual developmental programme 2017-18. The announcement came after senior gynecologists said there is a shortage of space at gyne wards in teaching hospitals across the provincial capital.

The hospital will not only offer medical assistance but also work as training facility for students as well as doctors and once trained, the doctors will be posted at other districts so that the ratio for maternal mortality is brought down.

Published in The Express Tribune, February 4th, 2017.