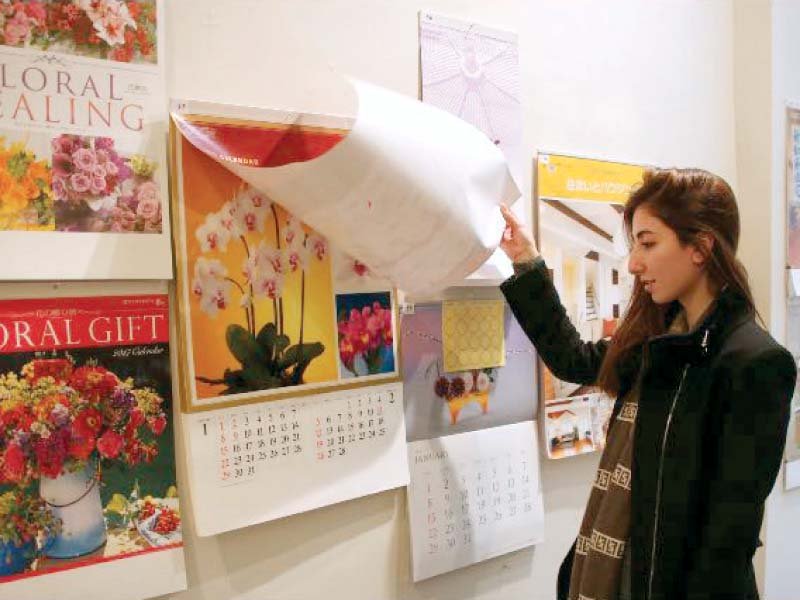 ---
ISLAMABAD: We normally use calendars as a means to keep track of the date or important events. A bright picture on top helps us remind ourselves of a destination goal, or just help brighten our day.

But for the Japanese, the calendar has a different meaning.

"It is a common practice in Japan to send calendars to exchange new year's greetings," Japanese Ambassador Takashi Kurai said while inaugurating a 15-day calendar exhibition at the National Art Gallery on Friday.

The exhibition, which has somewhat become an annual affair, depicts the beauty as well as the various aspects of life in Japan.

The calendars, numbering 137, have been provided by the Japanese Calendar Association and a number of private Japanese companies. They were printed on recycled paper, showcasing Japan's efforts to be eco-friendly.

"The purpose of the exhibition is to share various aspects of Japanese culture and lifestyle with the people of Pakistan," Kurai said.

The exhibition not only gives a picture of the sociocultural development of Japan spread over centuries but also exhibits the aesthetic features of Japanese printing technology. The calendars reflect images from Japanese traditional and contemporary arts, sports, automobiles, nature, and architecture in addition to showcasing a vibrant depiction of Japanese heritage and cultural identity.

"[The calendars] thereby offering a true-to-life image of Japan," the ambassador said.

He further said that after the exhibition ends, the embassy would give them out to visitors through a lucky draw.

This year's exhibition gains further significance because it marks 65 years of diplomatic relations between Japan and Pakistan.

"We hope to further extend this cooperation in future to promote and strengthen the cultural ties between Japan and Pakistan," Kurai said.

Pakistan National Council of Arts (PNCA) Director General Jamal Shah stressed the need for further cooperation between the two counties for intercultural dialogue and exchange.

The exhibition will continue till February 17.

Published in The Express Tribune, February 4th, 2017.