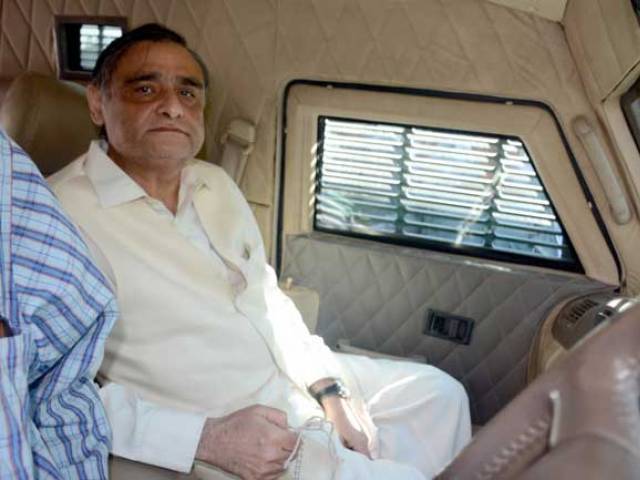 ---
KARACHI: Dr Asim Hussain, an under-trial close aide of former president Asif Zardari, will have to wait a bit longer to leave prison, as his bail applications in corruption cases were sent to a referee judge after the Sindh High Court's (SHC) two-member bench failed to reach a consensus.

SHC Chief Justice Sajjad Ali Shah will appoint a referee judge to examine the matter and make a judgement, the lawyers said.

Former petroleum adviser Dr Asim faces two corruption cases filed by the National Accountability Bureau (NAB) for allegedly depriving the public exchequer of Rs462 million by misusing his authority.




The PPP leader, whose detention on August 8, 2015, by the Rangers was seen as the first major breakthrough in the anti-corruption campaign, had approached the high court seeking grant of post-arrest bail.

A two-judge bench, comprising Justice Muhammad Farooq Shah and Muhammad Karim Khan Agha, had earlier reserved its verdict on the bail pleas. The two judges issued a split order on Friday, differing from each other in their decisions.

Justice Agha granted bail to Dr Asim subject to furnishing a surety of Rs2.5 million in each case and a PR bond of the same amount to the satisfaction of the court nazir. Also directing the applicant to deposit his original passport with the nazir, the judge further directed the interior ministry not to issue him a fresh passport until further orders and to place his name the Exit Control List.

Justice Agha said that allowing someone to remain confined for years despite the fact that confinement was hazardous to his life as proper and adequate treatment was not available in jail could lead him to being permanently physically or mentally impaired.

Senior member of the bench, Justice Shah, however, rejected the bail applications, observing that the prosecution indeed had succeeded in establishing a case of dismissal of the bail plea under provisions of the National Accountability Ordinance, 1999 and within ambits of Section 497(i) of the Code of Criminal Procedure (CrPC). "The applicant [was] provided excellent treatment and hospitalisation on [the] recommendation of [the] medical board."

The judge noted in the order that, "Perusal of the record revealed that the offence committed by the accused person was a crime against the society as a whole and is not involved in an ordinary criminal matter and his case was the exception as prima facie there is material on record to connect him with the commission of offences."

Published in The Express Tribune, February 4th, 2017.