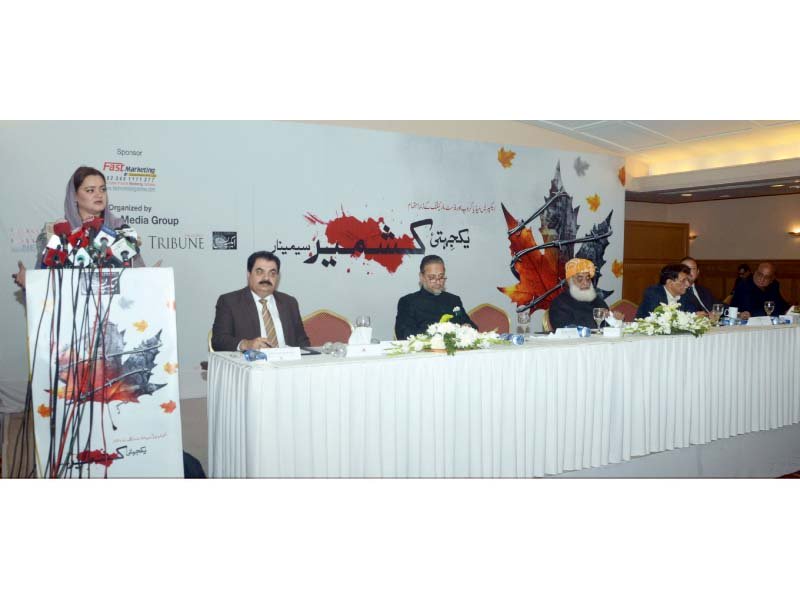 ---
ISLAMABAD: Pakistan continues to support Kashmiris in their right to self-determination and that India cannot suppress the voice of residents of the disputed Himalayan region through the use of brute force.

This was stated by speakers on Friday at a seminar on Kashmir solidarity, organised by the Express Media Group at a local hotel.

Minister of State for Information Marriyum Aurangzeb said that Indian forces have been committing grave human rights violations in the occupied territory.

She urged the international community to play its due role to stop human rights violations in Occupied Kashmir.

She added that Pakistan has been pleading the Kashmir case at the United Nations and other international platforms.

But to divert the wold's attention away from those violations, Aurangzeb said that India had been carrying out ceasefire violations along the Line of Control.

The minister called upon the media to play its role to further highlight the Kashmir issue, adding that social media should also be used to highlight this issue. Jamiat Ulema-e-Islam-Fazl (JUI-F) chief Fazalur Rehman, who also heads the National Assembly's Committee on Kashmir, said world peace is linked to the resolution of disputes such as Kashmir and Palestine.

He added that the international community was biased towards the dispute because of their vested economic interests and the burgeoning economic power of India.

Rehman called for an integrated approach to raise the Kashmir issue at national and international forums effectively. He suggested that an integrated Kashmir policy and a joint strategy should be evolved in collaboration with the ministry of foreign affairs, Kashmir Committee and the Ministry of Kashmir Affairs.

He added that Kashmir remains the oldest unresolved dispute at the United Nations. He added that according to UN charter, a freedom struggle was not a crime, but now the world seemed to have changed its views towards freedom struggles by wrongfully linking it with terrorism.

Rehman further said that the world community thought that Kashmir was a bilateral issue between Pakistan and India and they thus stressed that it should be resolved through bilateral dialogues.

Prime Minister of Azad Jammu and Kashmir Raja Farooq Haider said that the people of Kashmir fully acknowledge Pakistan's political, moral and diplomatic support to their just struggle for right to self-determination.

He added that the Kashmir issue became an international dispute which should be resolved to ensure peace in the world. He further said the issue cannot be resolved through bilateral dialogue and that Kashmiris should be involved in the dialogue process.

Published in The Express Tribune, February 4th, 2017.
COMMENTS
Comments are moderated and generally will be posted if they are on-topic and not abusive.
For more information, please see our Comments FAQ