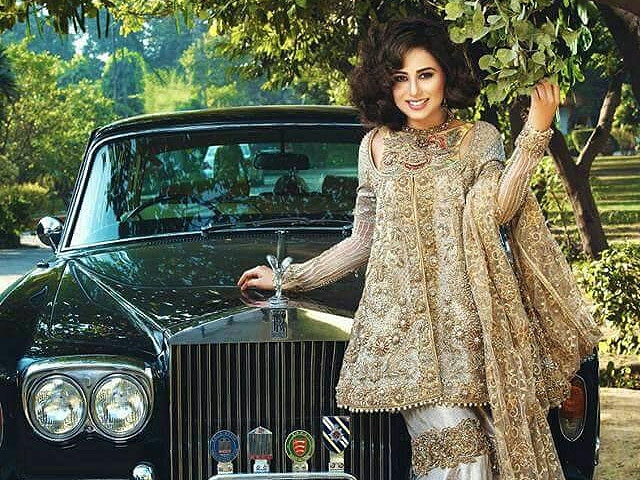 ---
LAHORE: The latest campaign by Nickie Nina is but a display of opulence. The designer duo has made sure that their latest bridal collection, entitled Nouvelle Mariée, is feminine and classic and in line with the signature workmanship and ethnic and contemporary aura of the brand.

Traditional aesthetics, intertwined with modern silhouettes bring the independent woman of today to life in the latest shoot. Nickie and Nina have drawn on elements of history, fantasy and folklore to create the timeless masterpieces. Both designers – who happen to be sisters – have built a unique understanding of the psyche of the fashion world which is reflected in Nouvelle Mariée. The clothes not only look good but are intelligent and innovative, having been studied so thoroughly.




Speaking with The Express Tribune, Nickie and Nina revealed exactly what was the inspiration behind the latest bridals. "The collection encompasses the compelling elements of vintage and retro," said Nickie.  "We wanted that theme to be seen through our campaign, without it taking away from the clothes themselves. Therefore, we used vintage cars from the private collection of a dear friend Asad Nawaz as props to emanate that effectively."




When asked how the brand plans to be different this year, Nickie responded, "We've always focused all our energies on reinventing ourselves with every passing collection. This year won't be any different. Staying true to our signature workmanship, we have introduced contemporary variations to conventional cuts. Look out for our ghararas and peplum tops in particular."

Pakistani actor Ushna Shah of Bashar Momin fame serves as the muse for Nouvelle Mariée and rightfully so, as she brings a youthful charm to the images. According to Nina, she was the ideal choice for the collection. "We have come with this collection for the brides and bridesmaids of the 21st century. These girls of today are very independent and ambitious and enjoy having the freedom to choose that to wear on their big days," explained Nina. "Ushna is just that! She fits in with the campaign perfectly. Working with Ushna has been fantastic! She's young, vibrant, and professional and always brings a great energy to the sets."




Ushna is just as satisfied with her affiliation with Nickie Nina. The model and actor couldn't help but gush about how wonderful an experience shooting for Nouvelle Mariée has been. "Both Nickie and Nina approached me with so much love that I just couldn't say no. I absolutely had to be part of the campaign," she confessed. "The shoot was a lot of fun, even though the clothes are very grand. They're very hard-working but know how to have a good time too. We would chat and laugh like schoolgirls throughout the shoot. I'm also quite a fan of cars so it was a treat to pose with the vintage ones you see in the mages. Some of those models were extremely rare."




Ushna continued, "Nickie and Nina are such intelligent and warm ladies. Their brand embodies strength, regality, glamour and womanhood and that's why, we were a perfect collaboration. The shoot didn't feel like work for even a second!"

Have something to add to the story? Share it in the comments below.