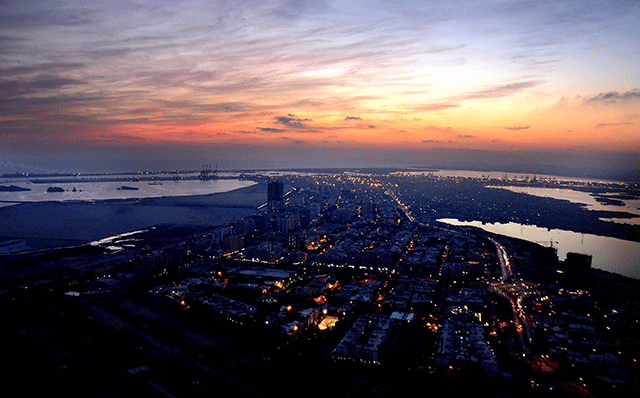 ---
China Pakistan Economic Corridor (CPEC) could be a game changer for Pakistan but if the cities are not prepared to deal with the influx of financial benefit and economic wellbeing this initiative will bring their way, then the effects could be quite negative and even perhaps damaging to the overall prosperity.

We all know the poor state of public transport in cities across Pakistan. Except for Lahore which has seen focussed efforts to improve public transit in recent times, other cities like Peshawar, Quetta, and Karachi have been neglected for far too long. If simultaneous plans are not put into work soon to upgrade urban transport, the results could prove disastrous and counterintuitive to CPEC's efforts.

Think tank explains why India loathes CPEC

One doesn't need to look further than India to gauge the importance of good transport system for flourishing economies. Our neighbour has an admirable network of roads, railway, and local airports supporting economic activity from across the country and an efficient public transport system to funnel the activity. If we look towards Europe and North America, the blueprints for an efficient city public transport system were put in first before setting out on a state-to-state or city-to-city network of roads, railway, and seaways which highlights its significance.

The point to stress is that when CPEC infrastructure will be in place, it will channel unprecedented economic opportunity from across Pakistan into major cities, bringing with it thousands of people both from within the country and outside trying to take advantage of the economic boom. This will equate to thousands of more cars, homes and businesses adding to the existing traffic chaos notorious to these major cities.

Our cities, compelled under commercial intensification and trying to meet the needs of the population, will find themselves in a crisis far worse than anyone can imagine. The challenge to funnel this influx efficiently while dealing with new business and residential developments will be a nightmare and could result in an environment that encourages anarchy and heightened disillusionment by internal and external interests.

For example, given the chaos an extra one hundred vehicles cause to known bottlenecks in our cities, imagine on a conservative note what a ten thousand more vehicles - taxis, rental and private cars - coming in would do.

Chinese firms eye Pakistan amid Beijing's 'Silk Road' splurge

Martin Wachs, an American transport expert, said infrastructure investments are prescribed to stimulate the economy in the short term by creating construction employment and to foster longer-term economic growth by making the transportation system more efficient and reliable.

Construction of CPEC-related road and transportation networks has created many jobs and will continue to do so in the coming years but it would be a huge mistake to interpret that employment as the system's only contribution to the economy. Workers who are taking salaries from the construction program are benefitting but far less than the travellers and shippers of goods who will use these facilities every day for decades. Their combined value to the Pakistan's economy over the future will easily dwarf the benefits from initial construction jobs.

A good public transport system is essential since it connects communities with businesses, connects businesses with businesses and makes trade and economy sustainable. Workers living in suburbs that could not hope of working in cosmopolitan centres are able to travel and earn a living which then has a multiplier effect. More people travelling easily equate to better opportunities, competitive services and industry growth.

Six concerns PML-N government must address about CPEC

For Pakistani cities, reliable transport is the single most significant economic driver for the functioning of communities, businesses and industries. The strategy should support a system that must be easy and convenient to use, fast, safe, clean and affordable. Some great examples are Seoul, Singapore and Hong Kong well known for their excellent transport systems. A small cit­y like Lyon in France has a very good system as well as León in Mexico, Pereira in Colombia, La­gos in Nigeria and Ahmedabad in India which have developed good sys­tems and attracted sustainable economic development. One doesn't need to rely on stats here; a visit to these countries reveals how a functional public transport system contributes positively for the wellbeing of the local and national economy.

A 2015 report prepared by the United States National Economic Council and the President's Council of Economic Advisers stated that: a high quality transportation network is vital to a top performing economy. Investments [in this sector] by previous generations of American's from 1806 up until the 90's were instrumental in putting the country on a path for sustained economic growth, productivity increases, an unrivalled national market for good and services, and international competitiveness.

Daewoo to become Pakistan's first bus service listing on stock exchange

Ideally, well-chosen transportation investments can advance both long-term productivity growth and short-term job creation. But the bigger challenge here is to know, which transport system works best for Pakistan. The importance of choos­ing the right transport system is significant here as there is little value in a city opting for a high-cost system if a smaller, less expensive one could do the job. We don't have to go for bling rather a practical system that takes into account the idiosyncrasies of our cities. A key feature is to integrate multiple technologies such as metro rail, light rail, bus rapid transit and basic bus services.

If the right decisions are not taken in the immediate future, CPEC prosperity will arrive at our doorstep like unexpected guests and the inhabitants of these cities will be left to deal with it ill prepared as were the residents of Dublin, Ireland during the Celtic Tiger Economic Boom in the 1990's where poor public transport was perceived negatively.

If the authorities and the concerned citizens fail to step up to these challenges, this could end up being the lost opportunity of the century and one Pakistan most certainly cannot afford to lose.

Ali Lawati is a transportation consultant and a published author.
COMMENTS (9)
Comments are moderated and generally will be posted if they are on-topic and not abusive.
For more information, please see our Comments FAQ