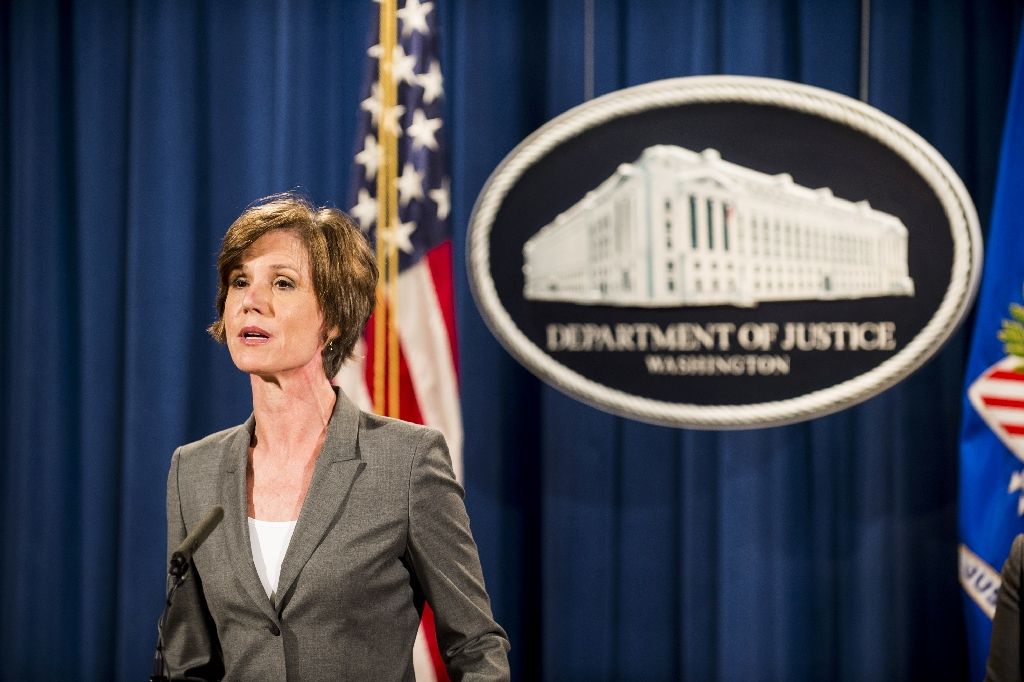 ---
Acting US Attorney General Sally Yates has been nominated for Profile in Courage Award by Congresswoman Jackie Speier.

According to the John F Kennedy Presidential Library and Museum website, the award "recognises a public official [or officials] at the federal, state or local level whose actions demonstrate the qualities of politically courageous leadership in the spirit of Profiles in Courage. President Kennedy's 1957 Pultizer prize-winning book, which recounts the stories of eight US Senators who risked their careers by embracing unpopular positions for the greater good".

Iranian turned away by Trump travel ban back in US


Just told w/ Sally Yates I've nominated her 4 President Kennedy's Profile in Courage Award 4 standing 4 the public good #ThankYouSallyYates

— Jackie Speier (@RepSpeier) January 31, 2017


Yates had expressed reservations over the legality and morality of Trump's executive orders, in a memo to Department of Justice Staff. Refusing to defend the executive order and advising fellow Department of Justice employees to do the same.

"I am not convinced that the defence of the executive order is consistent with these responsibilities nor am I convinced that the executive order is lawful," she wrote, adding, "For as long as I am the acting attorney general, the Department of Justice will not present arguments in defence of the executive order, unless and until I become convinced that it is appropriate to do so."

In retaliation, President Trump fired Yates in a fiery statement issued by the White House. "The acting Attorney General, Sally Yates, has betrayed the Department of Justice by refusing to enforce a legal order designed to protect the citizens of the United States," the press release said. It added: "Ms Yates is an Obama Administration appointee who is weak on borders and very weak on illegal immigration."

It also criticised Democrats for delaying appointment of attorney general-designate Jeff Sessions.

Trump order blocking some from Muslim-majority nations re-entering US: lawsuit

Soon after her dismissal, the former attorney general was praised for standing her ground.

#ThankYouSallyYates #SallyYates trended on social media.


Thank you @SallyQYates for your integrity. Thank you for standing up for our country. #NoBanNoWall #ThankYouSallyYates pic.twitter.com/00XiCvsvQC

— Forward March NY (@ForwardMarchNY) January 31, 2017
Firing those who are obliged to point out you got it wrong is the authoritarian, not democratic way, to run a government #ThankYouSallyYates pic.twitter.com/gHXN6Aibva

— Sheldon Whitehouse (@SenWhitehouse) January 31, 2017
Wow. Watch this. #ThankYouSallyYates https://t.co/At6ylU6Ake

— Michael Skolnik (@MichaelSkolnik) January 31, 2017
While many talk, you acted. #thankyouSallyYates

— Conan Neutron (@conanneutron) January 31, 2017