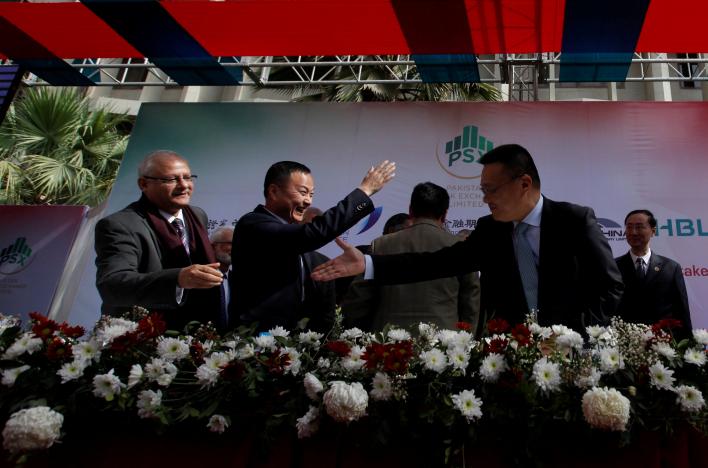 ---
Chinese companies are in talks to snap up more businesses and land in Pakistan after sealing two major deals in recent months, a sign of deepening ties after Beijing vowed to plough $57 billion into a new trade route across the South Asian nation.

A dozen executives from some of Pakistan's biggest firms told Reuters that Chinese companies were looking mainly at the cement, steel, energy and textile sectors, the backbone of Pakistan's $270 billion economy.

Think tank explains why India loathes CPEC

Analysts say the interest shows Chinese firms are using Beijing's "One Belt, One Road" project - a global trade network of which Pakistan is a key part - to help expand abroad at a time when growth has slowed at home.

A Chinese-led consortium recently took a strategic stake in the Pakistan Stock Exchange, and Shanghai Electric Power acquired one of Pakistan's biggest energy producers, K-Electric, for $1.8 billion. "The Chinese have got deep pockets and they are looking for major investment in Pakistan," said Muhammad Ali Tabba, chief executive of two companies in the Yunus Brothers Group cement-to-chemicals conglomerate.

Tabba said Yunus Brothers, partnering with a Chinese company, lost out in the battle for K-Electric, but the group is eyeing up other joint ventures as part of a $2 billion expansion plan over the coming years.

Mohammad Zubair, Pakistan's privatisation minister until a few days ago, told Reuters China's steel giant Baosteel Group is in talks over a 30-year lease for state-run Pakistan Steel Mills. Baosteel did not respond to a request for comment.

Daewoo to become Pakistan's first bus service listing on stock exchange

The negotiations come as Pakistani business sentiment turns, with companies betting that Beijing's splurge on road, rail and energy infrastructure under the China-Pakistan Economic Corridor (CPEC) will boost the economy.

The Chinese charge is in contrast to Western investors, who have largely avoided Pakistan in recent years despite fewer militant attacks and economic growth near 5 percent. It is welcomed by many in Pakistan: foreign direct investment was $1.9 billion in 2015/2016, far below the 2007/2008 peak of $5.4 billion.

At the stock exchange signing ceremony, Sun Weidong, China's ambassador to Pakistan, said the deal "embodies the ongoing financial integration" between Chinese and Pakistani markets. "This will facilitate more financial support for our enterprises," Sun said.

Reservations

CPEC will connect China's Western region with Pakistan's Arabian Sea port of Gwadar through a network of rail, road and pipeline projects. That will be funded by loans from China, and much of the business will go to Chinese enterprises.

Six concerns PML-N government must address about CPEC

The scale of Chinese corporate interest beyond that is difficult to gauge, but in Karachi, Pakistan's financial centre, sharply-dressed Chinese appear to outnumber Westerners in hotels, restaurants and the city's airport.

Rising skyscrapers testify to a construction boom in the city, businesses are printing Chinese-language brochures and salaries demanded by Pakistanis who speak Chinese have shot up.

Miftah Ismail, chairman of Pakistan's Board of Investment, said Chinese companies were interested in investing in the telecoms and auto sectors, with FAW Group and Foton Motor Group planning to enter Pakistan.

FAW said the Pakistan "project is going through internal approvals", but did not offer more details. Foton declined to comment.

But not everyone is excited by China's growing role in the Pakistan economy, including trade unions, who said Chinese companies' alleged mistreatment of local workers in Africa in the past had alarmed them. "We have concern and reservations that the Chinese might use the same methods in Pakistan," said Nasir Mansoor, deputy general secretary of National Trade Union Federation, Pakistan, the national trade union body.

CPEC: another Marshall Plan?

The Chinese government and Chinese companies have dismissed such accusations in the past. And doing business may not be easy for newcomers. Security remains a concern despite a drop in Islamist militant violence, and in the World Bank's ease of doing business index, Pakistan ranks 144 out of 190 countries.

Next phase

The Chinese interest comes as Islamabad and Beijing discuss the next phase of CPEC: how to build Pakistan's industry with the help of Chinese state-owned industrial giants.

Pakistani officials are drafting plans for special economic zones which would offer tax breaks and other benefits to Chinese businesses.

But even before zones are established, Chinese investors are scoping out land deals. "A lot of companies ... don't care about CPEC. They just want 500 acres of land to set up shop," said Naheed Memon, head of the Sindh province's Board of Investment.

Special security force for CPEC notified: report

Faisal Aftab, manager of private investment firm Oxon Partners, said Oxon was in talks with two state-run Chinese companies and a wealthy Chinese businessman to purchase and develop land for high-end residential and commercial properties. "They are seeking land in prime markets such as Lahore, Karachi, and Islamabad," Aftab said.

Yunus Brothers' Tabba urged Western investors to overcome their "phobia" of Pakistan. "If they came here, they would see the momentum, the buzz of growth."