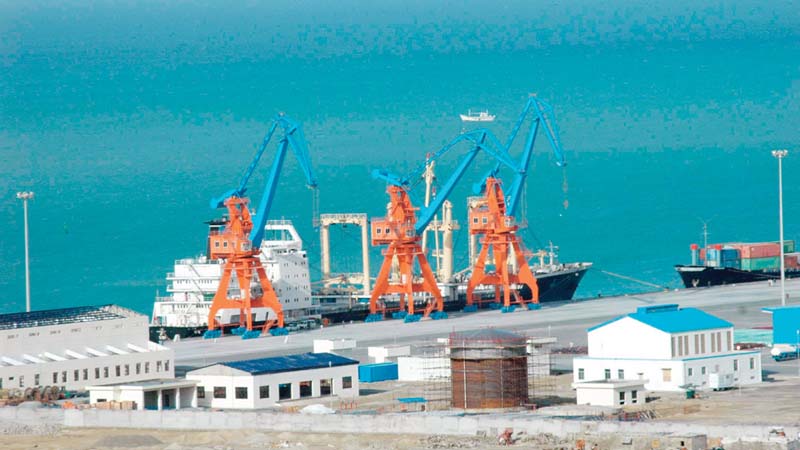 ---
Following the aborted attempt by an Indian submarine to penetrate Gwadar in November last year, two Chinese ships have been handed over to the Pakistan Navy by their Chinese counterparts for "the security of Gwadar". Two more state-of-the-art ships are scheduled to follow soon.

This is a mere indication of Gwadar's significance for China and CPEC. But the significance of this development is far reaching indeed. The Chinese Navy is finally breaking free of the US stranglehold on its east-west movement via the Malacca Straits.

After the Second World War, European economy was in tatters. The US decided to help reconstruct it. This was no altruistic move. Not only was it essential to thwart the creeping growth of Communism, an economic recovery of Europe was essential for the global economy to recover and the US to retain its economic and military supremacy.

Even more importantly, the US desperately needed the goods and services of Europe so as to continue to produce goods at economical rates. Interestingly, within two years of the commencement of the Marshall Plan, Nato, a military alliance, came into being.

Unequal CPEC distribution: Alliance set to launch protest campaign

In November last, Alexander Bogdanov, head of Russia's Federal Security Services, also visited Gwadar to "assess its utility for Russian ships". Obviously, this could not have occurred without Chinese approval.

Meantime, China's powerful Defence Minister, Chang Wangqwan, had visited Tehran for three days a week before Bogdanov's visit to Gwadar.

All this as Trump is getting ready to assume office.

In a realigning world, is a Gwadar Pact consisting of China, Russia, and Pakistan, Iran and perhaps Afghanistan and some other countries replace the erstwhile Warsaw Pact?

Whether a military alliance finally emerges or not, an economic alliance based on the above-stated structure is a virtual certainty. Iran's entrance is as certain as it is essential; logically Afghanistan should be a part of the economic and, if it emerges, the military alliance as well.

Due to being a prominent western neighbour, Afghanistan's inclusion in any security related alliance is very important. But, being land-locked and economically dependent on commerce its inclusion for economic purposes might be its own compulsion.

CPEC and the European Recovery under the Marshall Plan have some striking similarities. In 1947, like now, the world is in an economic recession. Then, the US needed to create and retain markets for the glut it faced, now China does.

In 1947, Europe desperately needed a security alliance against Russia's growing military might. Today, China is the waxing power and Pakistan needs a security alliance to counter the US-India strategic agreements.

Protecting the corridor : Special security force for CPEC notified: report

Russia is reasserting its global relevance but needs Chinese support. Iran, too, has just emerged from its isolation and its desire to return to maritime regional relevance will depend on Chinese support and assistance.

One important difference is that in 1947, the US had enough oil to export it to its European beneficiaries at cheap rates. Despite having signed the largest ever energy deal with Russia, China is still energy hungry. However, this merely serves to establish a mutual inter-dependence between Iran and China.

For all that CPEC seeks to do, Pakistan's participation and Gwadar's utility to its fullest capacity is an imperative.

Consequently, when critics refer to the economic unviability of some of the domestic projects under consideration, whether by Chinese firms or our own, or to the fact that Pakistan is borrowing from Chinese banks to undertake some projects, they do not advert to the fact that in such multi-purpose alliances, strategic interests could override economic ones; and thereby make them economically viable.

However, it is essential that each participant nation of any alliance must safeguard its own interests. While I am sure that all of the other aforementioned participants of CPEC will do so, I am not so sure of Pakistan.

In the past we have often ignored national economic interests to safeguard strategic interests beyond the economically viable national capacity and are still paying the price.

If Pakistan's role is an imperative for CPEC's success, Pakistan must emerge an economic and military beneficiary.

Pakistan must not forget the experiences of allying itself with the US. Oh, I am not saying we have not benefited from that alliance; we certainly have. But, in any unequal alliance, the weaker partner must ensure that it stays relevant; we didn't.

What is worse is that we stayed uni-dependent. India under the garb of being "non-aligned", remained mainly dependent on Russia but received critical assistance from the US as well.

The Trump dilemma

Let us be very clear, in conception, the Marshall Plan was intended to find markets for the American economy, the other beneficiaries were preferred allies but, they were intended to, and did, become markets for American goods. However, each beneficiary guarded its own economic and security interests within the parameters laid down in the plan.

The CPEC is no different. It too will essentially seek markets for Chinese goods. It is up to us to guard our own economic and security interests.

Our foreign policy must also seek to diversify or we will suffer the same consequences again.

Published in The Express Tribune, January 26th, 2017.

Like Opinion & Editorial on Facebook, follow @ETOpEd on Twitter to receive all updates on all our daily pieces.
COMMENTS (8)
Comments are moderated and generally will be posted if they are on-topic and not abusive.
For more information, please see our Comments FAQ