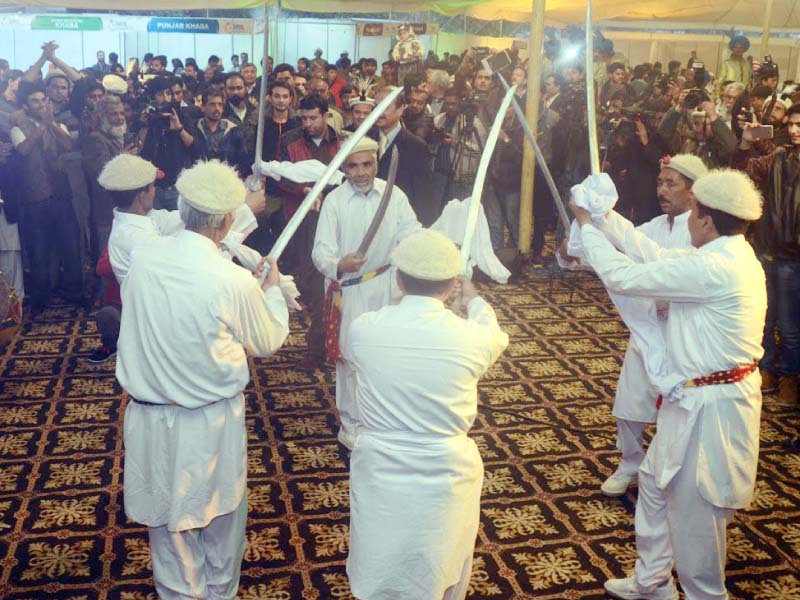 ---
LAHORE: Aimed at building cultural harmony and bringing diversity of other regions to Lahore, a three-day event titled Punjab Gilgit-Baltistan Fusion Festival 2017, kicked off at the Alhamra Hall on the Mall Road on Thursday.

The Walled City of Lahore Authority (WCLA) in collaboration with Lahore Arts Council organised the event.

The first two days of the festival will be held at the Alhamra Arts Council while the performances would continue at Greater Iqbal Park on the third and last day of the festival.

WLCA Director General Kamran Lashari said that this is first of its kind initiative in Lahore where melodies from two different regions would meet to produce new symphonies.

Sharing details at a press conference held on Wednesday, Kamran said the non-ticket public event would be essentially presenting a fusion of cultural music, food and dance from Punjab and GB.




"This is a small step we are taking to highlight the distinct difference between the two regions of the country and hopefully we will make it a yearly feature," he said. The idea of inter-provincial exchange of culture is at the core of this programme, he added.

"The multitude of people from Hunza based in Lahore and also the Punjabis shall experience various facets of the GB's ethnicity in a new light, since we've attempted to create an alternate reality of that region," he said.

WLCA Communication Director Tania Qureshi said the festival is divided into outdoor activities as well as indoor performances.

The closing ceremony of the festival will be held at Greater Iqbal Park near the Monument of Pakistan Minar-e-Pakistan is, giving a message of unity among Pakistanis, to the entire world while showcasing richness of our culture," Tania said.

At the three-day festival, singers and dancers from both the provinces will perform at the event scheduled to be started from 7:30pm onwards. Some performances like shepherd, shaman and sword dances and shina and fusion songs will be performed along with Punjabi dhamaal and luddi.

Krishan Laal Bheel, Areeb Azhar, Balti Dance Troupe, Islam Habib, Maham Suhail, Wahid Allen Faqir and Ghulam Nabi are expected to perform at the event.

Handicraft and food stalls have also been set up to provide the participants a chance to taste the traditional cuisine of both the provinces from noon onwards.

Published in The Express Tribune, February 3rd, 2017.