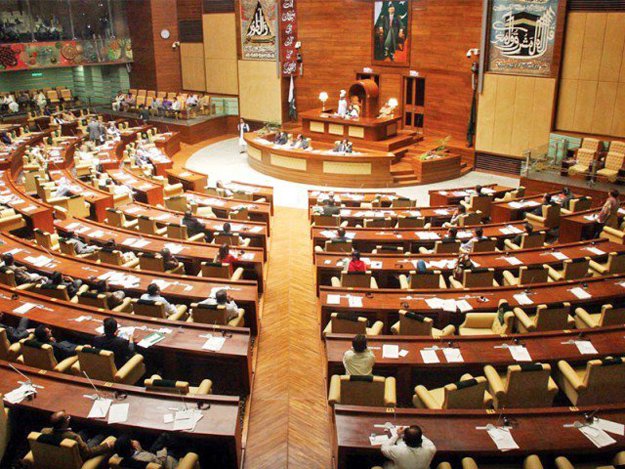 ---
KARACHI: Sindh lawmakers had a productive session on Thursday when they managed to pass three bills - making DNA test mandatory in rape cases, giving arms licences to employees of other provinces working in armed and civilian forces, and enhancing compensation for road accident victims.

Presenting an amendment to the Code of Criminal Procedure (CrPC), parliamentary affairs minister Nisar Khuhro said culprits in rape cases go scot free as DNA test is not conducted. The government has, therefore, decided to take DNA samples from the victim within 72 hours and hand it over to the laboratory for examination, he said.

"After this law, the DNA test of the victims will be collected by the investigating officer and its results will be preserved [in privacy] in the hospital or the forensics lab," he explained. "Police officials shall make all efforts to collect and preserve DNA samples within seven days of the date of rape to help in the investigation of the offense."

Khuhro stressed that the record of DNA samples will be maintained in strict privacy at the Central Police Office under the control of an officer not below the rank of grade 19.

Pakistan Peoples Party (PPP) MPA Sharmila Faruqui suggested the government ensure the availability of DNA kits in every district. "There is no testing lab in Sindh," she said.

Sindh Health Minister Dr Sikandar Mandhro clarified that a DNA facility is functional at the Liaquat University of Medical Science in Jamshoro.

Mehtab Akbar Rashdi of Pakistan Muslim League-Functional questioned why delaying tactics are used when it comes to conducting the DNA test in rapes cases when the authorities take DNA samples within minutes of a bomb blast.

Arms Act

Another amendment was made to Sindh Arms Act 2013 despite MQM's opposition. The bill facilitates provision of arms licences to government employees belonging to other provinces, clarified Khuhro.

"In the present law, we cannot issue armed licences to people from other provinces but we are now making an amendment to relax this rule for those government employees posted in Sindh who are working for armed and civilian forces," he said, adding that it also includes employees of the federal government departments, corporations, directors or senior management of public and private limited companies and tax payers, who are paying income tax of no less than Rs500,000. MQM parliamentary leader Sardar Ahmed opposed this amendment but his plea was turned down and the bill was passed.

Injury                                                       Compensation

Loss of life                                                Rs500,000

Loss of both eyes                                    Rs250,000

Loss of both legs                                     Rs140,000

Loss of one eye                                        Rs75,000

Loss of arms above the elbow              Rs65,000

Loss of hearing                                        Rs65,000

Loss of leg below the knee                    Rs60,000

Loss of all fingers and one foot            Rs50,000

Loss of a thumb                                      Rs40,000

Loss of all fingers Rs50,000

Published in The Express Tribune, February 3rd, 2017.