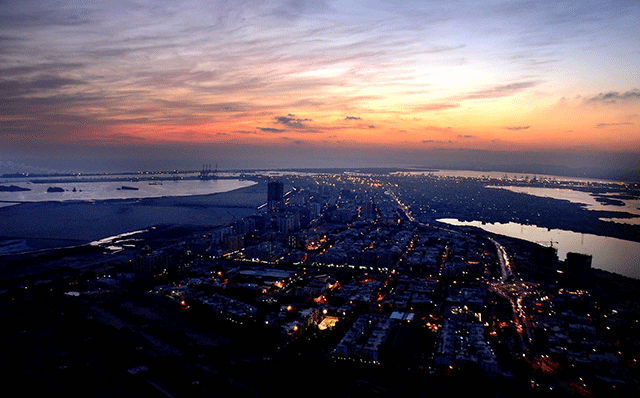 ---
Karachi comes with its fair share of trials and tribulations. It is a city more often than not portrayed in a negative light, overshadowing its diverse population and rich culture.

Popular YouTube channel FTD FACTS, however, set out to show Karachi in a more positive light by highlighting 12 facts about the city that are lesser known and are usually omitted from media coverage.

An aerial view of Seaview Beach introduces viewers to Karachi followed by a street view of Zamzama, a popular shopping district in the metropolis.

'Karachi will be the cleanest city in Asia'

"It is one big city that is either loved by many or hated by thousands especially by drivers during rush hour," Dave Walpole of FTD Facts says in his opening remarks about the city.




The channel aims to teach subscribers about everything and anything from around the world, including countries, culture and people and more recently the real stories of different cities within those countries.




Walpole gets straight to the statistics, informing viewers of Karachi's population. With approximately 24 million people in the city, Karachi is home to Pakistan's largest population; making it the world's most populous city next to Shanghai. Although plans are in place for a census to be conducted, many may not have known that the last census to have been held in the country was 1997.

Census to begin in lower Sindh on March 15




The video then takes viewers back in time to when Karachi was originally called Kolachi and highlights its year of founding as 1929. Walpole brings to light the fact that the then Karachi was named after a female fisherman, Mai Kolachi, who was among those who helped build the community around the area.

With Pakistan's real estate sector and economy expected to pick up in the coming year, the video informs viewers that Karachi collects one third of the tax of the entire country. As per a 2014 report mentioned by Walpole, Karachi is worth an estimated $113 billion owing to a hike in real estate.




Another unknown fact revealed in the video is that 400,000 people were residing in Karachi prior to Partition. Karachi was also originally the capital of the country, after which it changed to Rawalpindi in 1958 and finally Islamabad in 1967.

With over 6.2 million commuters each year, Jinnah International is the busiest airport of the country.

City of lights: 'Karachi is vibrant and full of energy'

It didn't come as a surprise when Walpole mentioned the crime prevalent in the city. However, he immediately focuses on the increased security measures and operations in place to rid the city of crime. Comparing Karachi to American cities St Louis and New Orleans, he highlights that there are only 12.5 homicides for every 100,000 people -- a rate lower than in both the aforementioned cities.

What makes Karachi special is that it has 350 protected sites across the city, many of which are on or considered for the UNESCO heritage sites. Footage then takes viewers on a brief tour of the Governor House, Mazar-e-Quaid and Lady Dufferin Hospital.




More often than not, conversations pertaining to Karachi involve the drawbacks of living in a city that is rife with several economic and infrastructure woes. However, little did we now that by the 1960s, Karachi was considered an economic model for cities the world over. Seoul for example, developed its five-year development goals around Karachi and is now one of the most inexpensive cities to live in.

In pictures: Karachi's first winter rain

With improved security and efforts underway to rid the city of crime and other adversities, restaurants, cafés and other places of business are now thriving and overflowing across the city.




Which can only mean that Karachi is "a city that is going to great lengths to fix its level of crime, water and housing issues. It is a place where people are continuously striving for a better and stronger future. A future filled with art, opportunity and equality for its citizens."

Watch the video for yourself:


COMMENTS (2)
Comments are moderated and generally will be posted if they are on-topic and not abusive.
For more information, please see our Comments FAQ