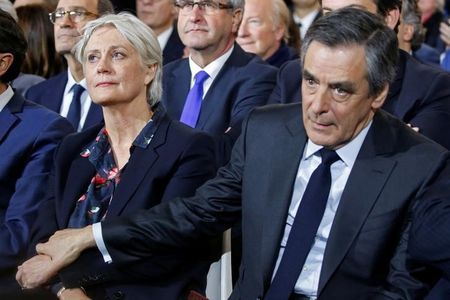 ---
PARIS:
Pressure on French presidential candidate Francois Fillon to pull out of the election race grew on Thursday as some lawmakers in his own camp urged him to abandon his bid in the face of a fake work scandal to save the conservatives from defeat.
The scandal, which surfaced a week ago when a newspaper said the wife of the 62-year-old ex-prime minister, Penelope, had been paid about 600,000 euros ($647,580) for work she may not have done, has throw Fillon's campaign off track.
"I think our candidate must stop," Alain Houpert, a conservative senator close to Fillon's former rival for the presidency, Nicolas Sarkozy, told Public Senat television late on Wednesday.
Fillon held an emergency meeting with party bigwigs on Wednesday in which he urged them to stick by him for another two weeks - the time he estimated an official preliminary investigation would take to run its course.
French parliament searched as part of probe into Fillon's wife's "fake job"
But some in his own camp appeared unwilling to allow him that much time, after an opinion poll showed Fillon, hitherto the frontunner in the election, would be eliminated from its crucial runoff.
Another poll which was published early on Thursday showed that 69 percent of people wanted Fillon to drop his bid.
"We need to change tactics, strategy," lawmaker Georges Fennech told RTL radio on Thursday, saying this needed to happen "without delay, today."
Another legislator, Philippe Gosselin, called on former prime minister Alain Juppe, whom Fillon beat in a runoff for the candidacy, to start thinking of stepping in as an alternative.
Others in the Republicans party disagreed and said Fillon should be supported. "These declarations shock me," Sarkozy-supporter Eric Ciotti told France Info radio on Thursday. "We need to keep our cool. Statements like these only serve to weaken us."
International reactions to Trump's travel ban
In what may be a further damaging revelation, France 2 television said it would broadcast on Thursday evening extracts of a 2007 interview of Fillon's wife British-born wife telling British media that she had never worked as his assistant.
Satirical weekly Le Canard enchaine, which broke news of the scandal, has alleged she was paid huge sums in salaries over years working first as her husband's parliamentary assistant and then under his successor in the National Assembly.
The newspaper says there is no proof she did any really work in these jobs nor in a subsequent job as a literary reviewer for a cultural magazine.
Fillon, chosen in November by a Republicans party primary, has said he will stand down if he is put under formal investigation.
COMMENTS
Comments are moderated and generally will be posted if they are on-topic and not abusive.
For more information, please see our Comments FAQ