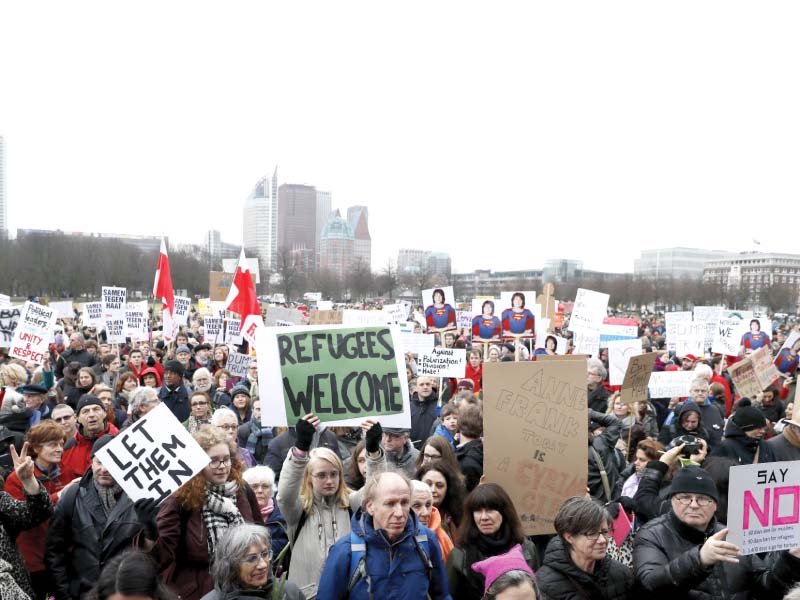 ---
BOSTON/ SAN FRANCISCO: Legal challenges to President Donald Trump's first moves on immigration spread, with three states suing over his executive order banning travel into the United States by citizens of seven Muslim- majority nations.

Massachusetts, New York, Virginia and Washington states joined the legal battle against the travel ban, which the White House deems necessary to improve national security. The challenges contend the order violated the US Constitution's guarantees of religious freedom.

San Francisco became the first US city to sue to challenge a Trump directive to withhold federal money from US cities that have adopted sanctuary policies toward undocumented immigrants, which local officials argue help local police by making those immigrants more willing to report crimes.

The legal maneuvers were the latest acts of defiance against executive orders signed by Trump last week that sparked a wave of protests in major US cities, where thousands of people decried the new president's actions as discriminatory.

Both policies are in line with campaign promises by Republican businessman-turned-politician Trump, who vowed to build a wall on the Mexican border to stop illegal immigration and to take hard-line steps to prevent terrorist attacks in the United States.

Massachusetts contended the restrictions run afoul of the establishment clause of the 1st Amendment of the US Constitution, which prohibits religious preference. "At bottom, what this is about is a violation of the Constitution," Massachusetts Attorney General Maura Healey said of the order halting travel by people with passports from Iran, Iraq, Libya, Somalia, Sudan, Syria and Yemen for 90 days.

The order also barred resettlement of refugees for 120 days and indefinitely banned Syrian refugees.

"It discriminates against people because of their religion, it discriminates against people because of their country of origin," Healey said at a Boston press conference, flanked by leaders from the tech, healthcare and education sectors who said that the order could limit their ability to attract and retain highly educated workers.

Massachusetts will be backing a lawsuit filed over the weekend in Boston federal court by two Iranian men who teach at the University of Massachusetts at Dartmouth.

Tillerson takes charge

Former ExxonMobil chief executive Rex Tillerson will this week take charge of a US State Department simmering with opposition to President Donald Trump's refugee and travel ban.

The 64-year-old oilman's nomination was confirmed by the Senate on Wednesday, clearing the way for the political newcomer to be sworn in as Washington's top diplomat. He will take over a department already rattled by senior-level resignations and by Trump's order suspending refugee arrivals and visas for citizens from some Muslim countries.

On Tuesday, around 1,000 officials from US missions across the globe submitted a 'dissent cable' through an official channel, decrying Trump's ban as an affront to American values.

The State Department 'dissent channel' has existed since the era of the Vietnam War to allow diplomats to question official policy, but the scale of the protest is unprecedented. One official, speaking to AFP condition of anonymity, warned a bureaucratic 'insurgency' against Trump is getting under way. Others spoke of colleagues bursting into tears.

The dissident diplomats, Spicer declared, "should either get with the program or they can go". His threat outraged many at the State Department, who argue that their in-house experts should have been consulted before the order was signed.

UAE minister backs Trump

The United Arab Emirates foreign minister said Trump's travel ban is not anti-Islam.

Sheikh Abdullah bin Zayed al Nahyan said it was 'wrong to say' that the decision by the new US administration was "directed against a particular religion". "The United States has made... a sovereign decision," he said at a joint press conference with his Russian counterpart, Sergei Lavrov, pointing out that it was 'provisional' and did not apply to 'the large majority' of the world's Muslims.

In his defence of the ban which has stirred widespread protests across the globe, Sheikh Abdullah also said some of the countries on the blacklist had 'structural challenges' on the security front that they still had to overcome.

UN chief

UN Secretary-General Antonio Guterres on Wednesday called for lifting the US travel ban.

"I think that these measures should be removed sooner rather than later," Guterres told reporters. "Those measures indeed violate our basic principles and I think that they are not effective if the objective is to, really, avoid terrorists to enter the United States," he said.

Addressing the US suspension of refugee resettlement and the ban on Syrians, Guterres again appealed to the US administration to reverse course.

Published in The Express Tribune, February 2nd, 2017.
COMMENTS
Comments are moderated and generally will be posted if they are on-topic and not abusive.
For more information, please see our Comments FAQ