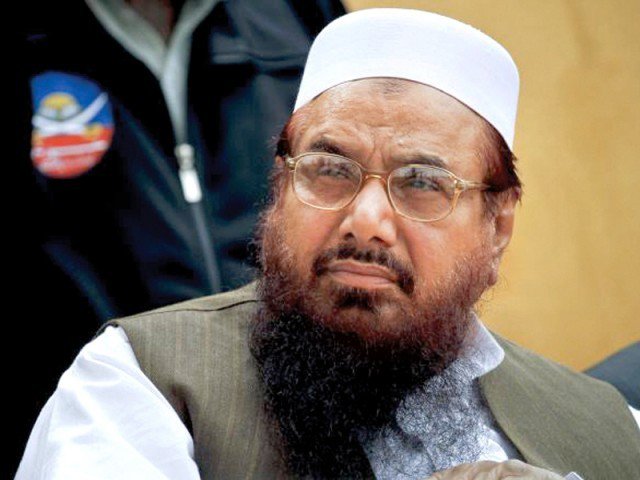 ---
ISLAMABAD: The Interior Ministry snubbed on Wednesday India's demand for a "credible crackdown" against militant groups following the detention of Jamaatud Dawa (JuD) chief Hafiz Saeed.

"Pakistan does not need any certification or endorsement from India over the recent actions it has taken in relation to Hafiz Saeed," a spokesperson for the federal Interior Ministry said in a statement in response to Tuesday's statement by Indian Ministry of External Affairs.

The spokesperson said the actions taken by the government were carried out as per "obligations vis-à-vis listing of JuD under UN Security Council Resolution 1267 in December, 2008". He, however, said various actions that needed to be taken under the relevant resolution i.e. arms embargo, travel ban and asset freeze were not taken for some reasons by the previous regime.

India urges 'credible crackdown' following Hafiz Saeed's detention

"India has constantly been using Hafiz Saeed's political activities as a tool to malign Pakistan," the spokesperson upheld, adding that the international community should take note and understand that Pakistan is a democratic country. "In Pakistan judiciary takes free, independent and transparent decisions."

The Interior Ministry urged New Delhi to come up with undeniable evidence against the JuD chief if it were serious about the allegations.

"India should come up with concrete evidence against Hafiz Saeed which is sustainable in court of law in Pakistan or for that matter anywhere in the world," the statement said.

The ministry warned Pakistan's arch rival against "casting aspersions and levelling allegations without any corroborating evidence", saying it would not help the cause of peace in the region.

The firebrand cleric, who has a $10 million bounty on his head, was taken away by police on Monday and escorted to a residence where he is now under house arrest. Four other JuD followers were detained in the same operation.

India says JuD is a front for the militant Lashkar-e-Taiba (LeT) group, which it accuses of carrying out the attacks on India's financial capital in November 2008 which killed more than 160 people. Islamabad briefly detained Saeed in the aftermath of the attacks but he was later released on court orders.

Justification regarding Samjhauta Express case sought

Meanwhile, the Interior Ministry said Pakistan was still looking for the justification and explanation from India as to how all the accused involved in Samjhauta Express bombing had gone scot-free.

Opposition protests against Hafiz Saeed's house arrest

"The involvement of Indian Army officer Lt-Col Prasad Shrikant Purohit and Hindu extremist leaders like Swami Aseemanand of Rashtriya Swayamsevak Sangh in the terrorist incident is a matter of record and has been widely reported in the international press without any positive response from India," it said.

The Samjhauta Express, one of the two active rail links between Pakistan and India, was bombed in February 2007, killing 68 people, including 42 Pakistanis.