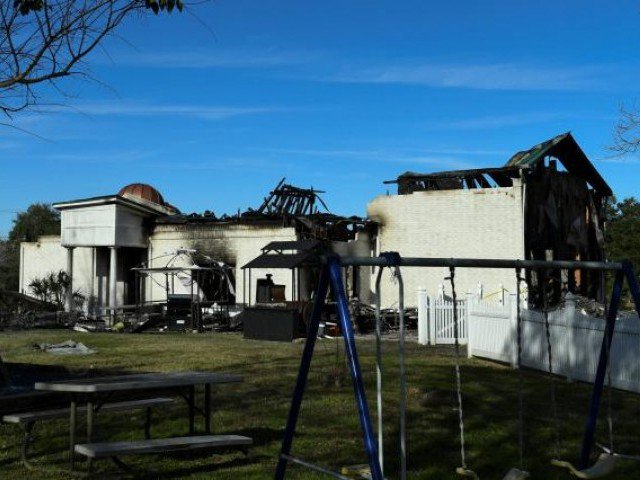 ---
The Jewish community in a small Texas city have offered Muslims the keys to their synagogue after the city's only mosque was set ablaze on Saturday.

A fire destroyed the Victoria Islamic Centre in Texas just hours after US President Donald Trump signed an executive order last Friday that banned travelers from seven Muslim-majority countries from entering the country for several months on national security grounds.

However, Jewish residents of the town made sure that their Muslim neighbours have a place to worship while the building is being rebuilt.

Blaze guts Texas mosque vandalised years ago

Expressing solidarity with the Muslim community in the small town,  Robert Loeb, the president of Temple Bnai Israel, told Forward: "Everyone knows everybody, I know several members of the mosque, and we felt for them. When a calamity like this happens, we have to stand together.

"We have probably 25 to 30 Jewish people in Victoria, and they probably have 100 Muslims. We got a lot of building for a small amount of Jews."

Shahid Hashmi, one of the mosque's founders, said, "Jewish community members walked into my home and gave me a key to the synagogue."

Further, more than $900,000 has been raised in an online fundraiser for rebuilding the mosque, exceeding the amount needed, according to the fundraising page on Monday.

The GoFundMe page for the Victoria Islamic Center received donations from more than 19,000 people in the two days after the mosque, about 125 miles southwest of Houston, was gutted by flames early on Saturday.

Six killed in 'terrorist' attack on Canada mosque

"Our hearts are filled with gratitude for the tremendous support we've received," mosque leaders said in a statement on the online fundraising page. "The outpouring of love, kind words, hugs, helping hands and the financial contributions are examples of the true American Spirit."

This article originally appeared on Independent.
COMMENTS (9)
Comments are moderated and generally will be posted if they are on-topic and not abusive.
For more information, please see our Comments FAQ