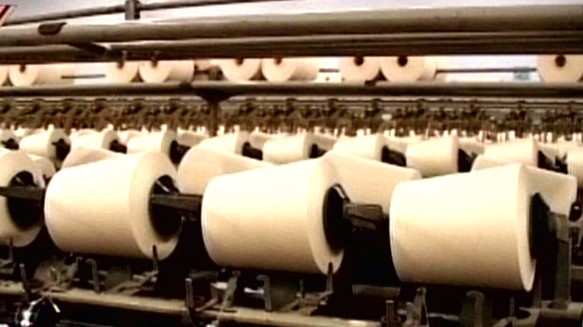 ---
KARACHI: The All Pakistan Textile Mills Association (Aptma) on Thursday decided to stage a two-day strike every week against the government's decision to levy 15 per cent regulatory duty on yarn exports.

The Cabinet Committee on Textiles, in its meeting on Wednesday, had decided to slap a 15 per cent regulatory duty on yarn exports, meeting a longstanding demand of the value added textile sector. "We cannot export yarn anymore after the imposition of 15 per cent duty," Aptma Chairman Anwar Ahmed Tata said. "The government has forced us to go on strike and we have decided to stage a strike every Tuesday and Wednesday." "Cotton is being imported to produce yarn, how can we import cotton whose prices have doubled in the last few months, make yarn and then export it with 15 per cent regulatory duty," Tata asked.

Aptma and the value added textile sector have locked horns over the issue of yarn exports after its prices rose sharply in the first 10 months (July-April) of the current fiscal year. After a series of meetings with the textile ministry, both the parties were waiting for a final decision in their favour. On Wednesday, the cabinet committee with the consent of the textile ministry placed 15 per cent duty on yarn exports. Jawed Bilwani, Chairman Pakistan Apparel Forum, an umbrella association of over a dozen value added textile associations, said that the government has taken the right decision of putting 15 per cent duty on yarn exports.

"The government has finally come to a decision after 10 months of long wait. Anyway we welcome the imposition of duty on yarn exports," said Bilwani. "Although we requested the government to completely ban yarn exports for the next two months or put a 25 per cent duty, the 15 per cent duty will help ease the value added sector's problems," he said, adding "India had surplus yarn but despite that they banned yarn exports in the national interest and that was what we were expecting from our government." On the claim of Aptma members that they could not export yarn with this levy, he said "there is nothing like this and they can export even with 15 per cent duty."

Published in the Express Tribune, May 14th, 2010.
COMMENTS (2)
Comments are moderated and generally will be posted if they are on-topic and not abusive.
For more information, please see our Comments FAQ